Jameis Winston Out? DeSean Jackson In…The Red Zone; It's The Todd Wright Fantasy Football Podcast
June 24th, 2018
Podcast (todd-wright-fantasy-football-podcast): Play in new window | Download | Embed
Subscribe: RSS
Jameis Winston out? DeSean Jackson in…the red zone.
With news of a possible three-game suspension to the Buccaneers starting QB, Todd talks about the sudden spike in early season fantasy value for WR DeSean Jackson. Also, in this edition of the Todd Wright Fantasy Football Podcast, Todd cautions not to get cute with any season-long fantasy plans for Ryan Fitzpatrick. Todd also speaks to how the strongest negative reaction to the news this week was likely from people who are just emotionally covering up that they personally were wrong about this possible suspension, and also wrong to think Jameis would lead the Bucs to the playoffs last season.
Remember, Todd answers all your fantasy football questions personally at ToddWrightFantasyFootball@gmail.com.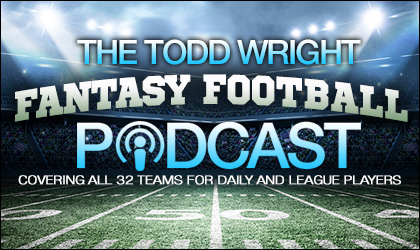 PRESENTED BY BRANDON LEGAL GROUP