Jameis Red Zone Failures And Mystery
June 4th, 2018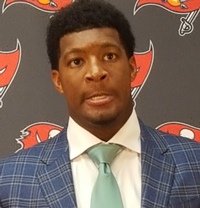 An extreme mystery of the 2017 season lies in one stat. When in the red zone, Jameis Winston attempted just one pass all year to DeSean Jackson. One!
But it was a very different story when Ryan Fitzpatrick was on the field.
Fitz managed to throw Jackson's way in the red zone six times. Jackson returned the favor with four receptions and two touchdowns.
Please don't tell Joe this was just a coincidence.
After an offseason of intense study, offensive coordinator Todd Monken calmly said twice that the Bucs' red zone failures last season happened because "we chose to suck."
Now at the same time, Dirk Koetter has said repeatedly that DeSean Jackson did his job last season and was open but the Bucs didn't get him the ball. Presumably, that included Jameis finding Jackson in the red zone.
When it comes to completion percentage, Jameis has been one of the worst NFL starting QBs in the red zone through his three-year career. That includes last season when he had a plethora of weapons. Heck, Marcus Mariota and Blake Bortles have been much better than Jameis in the red zone over the past three years.
Fixing red zone effectiveness remains a Bucs key to 2018. A better running game should help, but Jameis is ultimately the guy in the spotlight here. He simply has to get better.