"Thank You So Much For Exceeding Our Expectations"
June 4th, 2018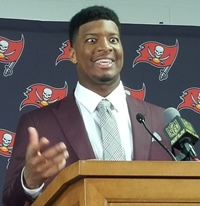 Tampa elementary school principal Kristina Alvarez walked up on the small Pinellas Park stage at a foundation fundraiser Friday night and proudly sang the praises of America's Quarterback, Jameis Winston.
School was out, but she was working the room.
For Joe, one little tidbit shared Friday was telling:
It was revealed that Jameis gave a high-five to every single kid at Alexander Elementary, where Alvarez said her student body population is 92 percent "low socio-economic status."
In April, Jameis' charitable foundation built what Alvarez called the "center of our campus," a Dream Room, a new science, technology, engineering and math (STEM) hub. Jameis has been to the school just east of Tampa International Airport and has gotten involved with the kids, and several children talked about their experiences in the Dream Room on Friday.
Jameis also spoke from the stage to fundraiser attendees and certainly appeared at ease and well versed in the goals of the technology purchased for students.
His foundation aims to build a Dream Room in school after school locally, those with a majority of kids from low-income families.
A high-profile football player who wants to give certainly could just cut a check, smile for photo-ops and be done with it. Acting that way would not diminish the generosity, but the consistent hands-on effort by Jameis in his various community work really stands out.
Who high-fives every kid? A committed man. Jameis is involved and invested emotionally and financially.
"So Jameis, thank you so much for exceeding our expectations for really inspiring a dream into our students to really be prepared for innovative jobs that we don't even know that are out there yet," principal Alexander said Friday. "So inspiring that dream in our students, we really continue to look forward to that continued partnership with you and your team."
After Friday night's affair, Jameis got up early Saturday and Sunday and moved on to One Buc Palace, where he was a very active, coach, speaker, inspiration-in-chief at his annual football camp. Jameis didn't host a youth football camp in his native Alabama this year, so he paid the way for several of those kids to join him in Tampa.
Joe can't predict what's next for Jameis on or off the field. But Jameis unquestionably has done an extraordinary job impacting kids' lives at just 24 years old. For the community part of his game, he's an All-Pro.