Buc Fans Know The Drill
June 4th, 2018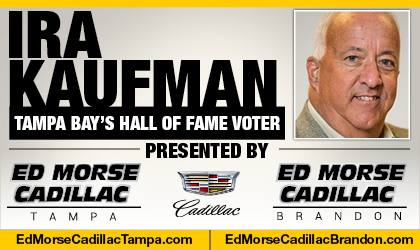 BY IRA KAUFMAN
Let 'em gush about Doug Martin in Oakland. There's talk he might beat out Marshawn Lynch as Jon Gruden's workhorse back.
That's OK, too. The Bucs are moving on.
It's been six weeks since Tampa Bay dumped a two-time Pro Bowl back — and the only question is what took so long.
Injuries, ineffectiveness and an ill-timed PED suspension wrecked a once-promising career and now Martin is apparently turning helmets on the comeback trail.
"Doug is smart," says Raiders left tackle Donald Penn, who opened holes for Martin in Tampa. "He's always going to be in the right spot. He's small, tough and strong, so he gets to hide behind us, and then he just pops out. He did that so many times in Tampa. That's another guy that has a chip on his shoulder."
Martin should have no gripes about his tenure with the Bucs … zero.
He was outstanding for two seasons and awful or mediocre for the other four years.
His PED suspension arguably cost the Bucs a playoff berth in 2016, when a five-game winning streak improved Tampa Bay to 8-5 and in control of its postseason destiny. In a critical loss at New Orleans, Dirk Koetter chose to sit Martin, although he was eligible to play.
Buc fans were stunned when Koetter stuck with Martin as the primary back for much of last season, even as he averaged 2.9 yards per carry.
In his final two games as a Buc, Martin carried nine times for four yards.
Martin, 29, had no burst in the past two seasons, but he did have a fat contract. Not anymore. On March 15, the Raiders signed him to a 1-year deal worth $1.475 million.
Martin says he feels reborn as a Raider, only 70 miles from his hometown of Stockton.
"The past couple of years, I just got in my own way," he says. "Being here, having my family around and old friends, it's definitely going to help me stay busy. I can always confide in them if I have something to talk about."

What went wrong in Tampa?

"Not focusing on the right things," he said.
For those needing a translation, Doug Martin admits he couldn't resist the temptations of Tampa. For two years, his mind was anywhere except Koetter's playbook.
Dougie "Fresh?'
While Martin raked in millions, Tampa Bay's ground game went bankrupt.
Now, he's wearing a new number (28) and seeking a new start.
"Doug has really jumped out in this camp," says Raiders offensive coordinator Greg Olson, who used to work with Gruden at One Buc Place. "His quickness, his ability to pick up the offense and what we've given him, that's been very encouraging. It just looks like he's got a real fresh set of legs."
Here's Martin, playing for a contract once again. Buc fans know the drill.
"You see why he's an All-Pro," Derek Carr says. "You see why he's a 1,500-yard back. His work ethic is unbelievable."
Ring Of Shame
Martin is never going into the Bucs Ring of Honor, but he's not a first-round bust, either. There were times when he gave this franchise everything he had, which was plenty. But in the end, he'll be considered a disappointment who couldn't stay the course.
He joins Josh Freeman, Da'Quan Bowers, Austin-Seferian Jenkins, Anthony Collins and Chris Baker as Buc underachievers who sadly didn't love football.
"I just want to play for the Raiders and I want the Raiders to be successful," Martin says. "Playing for my hometown and playing for my family that's out here, just show everybody that I can bounce back."
While the Bucs move on, the Raiders think they landed a bargain.
We'll find out in a few months, but know this: the walking dead of the Black Hole aren't known for their patience.
Neither is Mr. Gruden.
Ira Kaufman is the most revered sports personality and writer in town. He has hung his hat at JoeBucsFan.com world headquarters since July 2016. Tampa Bay's only Pro Football Hall of Fame voter, Ira busts out columns here every Monday, Wednesday and Friday, and his award winning podcasts fire Tuesdays and Thursdays. You can also hear Ira on SiriusXM Mad Dog Radio Wednesdays during football season, and see him now on Mondays at 10:30 p.m. on Spectrum Sports 360 (aka BayNews 9). Ira also is part of the FOX-13 Tailgate Sunday show and enjoys beet salads, Riesling, Chiefs victories and needling Joe.