"If You Don't Win, You Can't Affect The Community Like You Can"
June 8th, 2018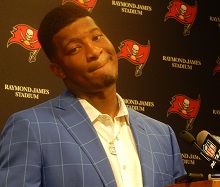 America's Quarterback, Jameis Winston, has been a very busy man helping children throughout the Tampa Bay area, and in and around his Alabama hometown.
And he's learned a lot about winning.
Talk to Jameis and he'll tell you how much the reaction to the Tampa Bay Lightning making a Stanley Cup run impacted him. He saw not just the power of fans and community support affecting a team on the ice or field of play, he saw what that can mean for a man like him who wants to be an advocate for helping kids.
"If you don't win, you can't affect the community like you can," Jameis explained to Spectrum Sports via the video below.
Jameis is correct. Winning is contagious. If Jameis can become a winner on the field, then more and more people and businesses will want to be a part of his foundation endeavors.
This spring, Donovan Smith held a prominent, highly-publicized bowling event/autism research fundraiser in Tampa that was very affordable at well under $100 per person. Smith, with the help of the Bucs and lots of media, got word out that nearly every big-name Buccaneer would be in the house. Joe was there as a paid supporter but there were fewer than 100 fans attending.
How many more fans are there donating money if the Bucs had gone 10-6 or made the playoffs?