Day 1 Minicamp Notes, Nuggets & Happenings
June 12th, 2018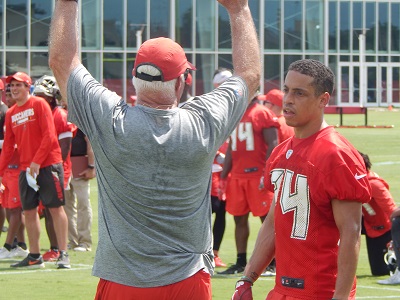 Broiling sun on the fields of One Buc Palace this afternoon as Day 1 of minicamp, a mandatory version of underwear football, kicked off with a two-hour practice. Joe was there patrolling with cameras, an old school note pad and Ira Kaufman periodically barking in Joe's ear. The result is Joe's world famous practice notes.
*Select fans are allowed in today, roughly 150 are here sitting on two sides of the east field.
*Vernon Hargreaves looks sharp in early drills. The A-list footwork and break is on display.
*Rookie RB Ronald Jones with two drops/misplays on long balls with no defense. His fellow RBs made all their catches. No deep threat from Jones, it seems, which is no problem at all. That's not why he's here.
*11-on-11 work kicks off with a fierce tempo. America's Quarterback, Jameis Winston, overthrows Mike Evans to the left.
*First down! Jameis to Chris Godwin short. Brent Grimes covering.
*Drop! Cameron Brate over the middle.
*Too much time and the rush pulled up before Jameis completed to Godwin.
*Throwaway by Jameis.
*12-yard toss to Cameron Brate. Easy find.
*Ball is spiked.
*Another throwaway by Jameis. Defense victorious in this session.
*Ryan Fitzpatrick steps in at the same tempo and throws short and then incomplete before he moves the chains to Freddie Martino. Live stream to the velvet-lined lounge at the Vero Beach Ramada i
*Defense has 12 men on the field. A little chaos in the second unit.
*Short pass, Fitz to Jones.
*Charles Sims up the middle for a big gain. This reminds Joe to remind readers this is underwear football.
*In a two-minute drill, Fitzpatrick hurried his offensive teammates back to the line of scrimmage and a few players were hollering "Chicago, Chicago… !" Not sure if it was offense or defense.
*Just after the yelling about "Chicago," Fitz tried to hit Bobo Wilson down left sideline. It was too long but Joe is guessing the problem was Wilson. As soon as ball wall was snapped, wide receivers coach Skyler Fulton was screaming "YOU HAVE TO WIN IT BOBO!
*Cornerback/safeties enter a footwork drills and the unit looks good except for a Hargreaves slip and a Grimes screwup that stopped his turn.
*QB scramble drill with a huge focus on setting feet before throwing. Jameis looks good.
*7-on-7 work kicks up and lots of short throws. Ryan Griffin struggles just about every time Joe studies him.
*Nice breakup by LB Adarius Taylor (former Glanton). Pass was Jameis to Brate.
*DROP!/bobble. Oh, Bobo. Hargreaves plucks the ball out of the air at the 3 yard line. Interception.
*Mike Evans burns Ryan Smith easily. Pass from Jameis.
*Back in 11-on-11 work and it looks like a shovel pass to Peyton Barber, who is taking nearly all the first team work, followed by a short completion, Jameis to Brate.
*Nice catch by Martino from Ryan Fitzpatrick.
*Griffin throw lands too short.
*AC/DC fills the steamy afternoon air following by Van Halen. Jason Licht must have hi-jacked the tunes.
*DROP!?/bad connection, Jameis to DeSean Jackson in the end zone after a 40-yard throw. Jameis tries to hit Jackson on a bomb over the middle but the ball bounces off Jackson's outstretched hands as he falls into the end zone with a loud flop and bounces off the turf. Sounded and looked like that hurt. Jameis tries again to connect with Jackson on a long pass down the left sideline. This time it is a hookup. easily getting behind Justin Evans for a TD.
* Guns N' Roses' "Welcome to the Jungle" is played. It is hot like a summer jungle out here.
*Incomplete, Jameis to Godwin in the corner of the end zone. Grimes on the effective harassment.
*Rare crowd cheer when O.J. Howard skies high over Kwon Alexander for a leaping touchdown grab and taps his toes inside the end line for six.
*Fitz on the move. Rolls hard left and fires a laser to Wilson. Catch!
*Ryan Griffin tries to squeeze a pass in the red zone to Bernard Reedy. Nice breakup by Javien Elliott.
*Wilson with a comebacker on the left side is caught just inside the sideline.
*Some coach is yelling for a formation. "Let's go, Raiders. Raiders!"
*Another coach screaming for a formation in a two-minute drill. "Go Toledo! Go Toledo!"
*Kicking battle! Big-money free agent kicker Chandler Catanzaro clangs his first kick off the left upright from what appears to be 30 yards. He makes the rest of his kicks from 40 and in. But then up steps rookie North Texas rookie Trevor Moore. He's perfect and is pounding his five kicks with great distance, going over the netting and off the windows at One Buc Palace. What a way to show coaches you want a job. Worth monitoring.
*11-on-11 returns and it's another incompletion to Jackson from Jameis.
*Very short toss, Jameis to Howard.
*Big cushion Hargreaves gives Martino on the left side. It's a flashback to dark days. First down.
*Godwin comes back to the ball for a nifty catch about 15 yards on the right side. Great hands. Grimes on the coverage.
*Fitz complete to Bobo Wilson with rookie Carlton Davis covering.
*Fitz over the middle to rookie tight end Donnie Ernsberger with a blown coverage by linebacker Devonte Bond. That gets Mike Smith screaming, "C'mon, Davonte!" It hasn't been a great spring for Bond.
*Circus catch in back of end zone where Chris Godwin had to sky high enough for a Jameis pass that he fell to the turf. Godwin tosses ball up in the air for an Evans slam at the crossbar over Justin Evans doing a failed Dikembe Mutombo impression.
*Trickery! QB keeper by Fitz was well played to the right side. Evan Smith is pumped up.
*Riley Bullough with a strong pass breakup. So much effort in that kid.
*Brent Grimes and Mike Smith seen having an animated discussion on the field that's clearly football/x's and o's related. Pointing and flailing arms but nothing that looked questionable. Grimes walked over to Smith to start the chatter. Great to see Grimes cares — in June.
— JoeBucsFan (@JoeBucsFan) June 12, 2018