Darlings To Dumpsters And Back
June 18th, 2018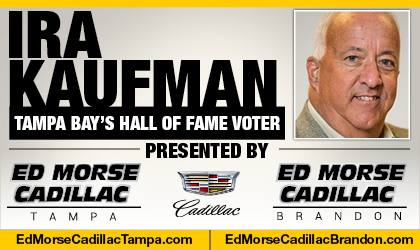 BY IRA KAUFMAN
Respect.
Aretha Franklin sang about it, Rodney Dangerfield joked about it and the 2018 Buccaneers can't seem to find any.
If respect is earned, not given, the Bucs have a ton of work to do this fall. Not only have they fallen off the national radar as a team, but their premier players have been taking hits as well.
Collateral damage.
NFL Network has already released 80 entrants on its Top 100 players list and nary a Buc has heard his name called. A year ago, coming off a 97 season that raised expectations and ticket prices, Tampa Bay placed three players within the Top 60 — Mike Evans (29), Gerald McCoy (52) and Jameis Winston (57).
The voting is presumably done by NFL rank-and-file, but there are legitimate questions about how many players return ballots. The system might be flawed, but the results clearly suggest a prevailing perception that Dirk Koetter's roster lacks star power.
That's what a 5-11 slate will do for your reputation in league circles.
"It goes back to us not being what everybody expected us to be last year," says Lavonte David. "We've got a lot of things to fix, so hopefully it won't be that way next year."
The Top 20 players are still out there, eager for their moment, but let's be realistic. Evans, McCoy and Winston aren't going to make that elite list.
You know it and they know it.
McCoy Snub Telling
That Bucs trio is not about to join Antonio Brown, Aaron Donald and Drew Brees near the top and quite frankly, they don't deserve to. Still, to think of a Top 100 list without McCoy tells you all you need to know about how far this franchise's reputation has plunged in one year.
Although there are exceptions, players on successful teams boast a huge advantage when it comes to voting for Pro Bowls and Top 100 lists. For Exhibit A, I present to you the Jacksonville Jaguars.
Last summer, coming off a 3-13 season, the Jags were blanked on the Top 100 ballot. Zero, nada.
Calais Campbell made it, but he had just signed with Jacksonville as a free agent and was voted in for his disruptive work with the Cardinals.
A year later, after the Jags went 10-6 and almost advanced to the Super Bowl, they already have four representatives on the Top 100. And there's more to come as Campbell and Jalen Ramsey have yet to be named.
That's the football equivalent of going from zero to 60 inside the 10-yard sticks.
W-driven
Let's look at Mr. David for a moment. He was named a first-team All-Pro linebacker by NFL media members in 2013, yet failed to make the Pro Bowl that season.
Again, lack of respect.
"It is what it is," he says of his quest for recognition. "To be honest, some of it has to do with winning. We haven't been winning a lot of football games, we haven't been on a big stage as much. To turn all that around, we've got to win a lot of football games. That's what I'm trying to focus on."
Respect will come when that flashy new scoreboard tilts repeatedly in Tampa Bay's favor.
"I know what I'm capable of," says David. "Let me keep flying under the radar and let me keep putting up the numbers I put up. All I do is go out Sundays and play my hardest."
Playing hard is good. Winning is better.
Ira Kaufman is the most revered sports personality and writer in town. He has hung his hat at JoeBucsFan.com world headquarters since July 2016. Tampa Bay's only Pro Football Hall of Fame voter, Ira busts out columns here every Monday, Wednesday and Friday, and his award winning podcasts fire Tuesdays and Thursdays. You can also hear Ira on SiriusXM Mad Dog Radio Wednesdays during football season, and see him now on Mondays at 10:30 p.m. on Spectrum Sports 360 (aka BayNews 9). Ira also is part of the FOX-13 Tailgate Sunday show and enjoys beet salads, Riesling, Chiefs victories and needling Joe.