Terrell Davis: Jameis Lost Locker Room Trust
June 29th, 2018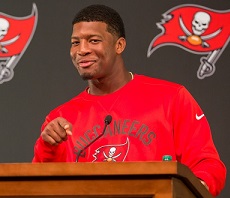 So what percentage of Jameis Winston's teammates believe he did it, inappropriately crotch-grabbed a female Uber driver without permission 27 months ago?
Twenty percent? Thirty? Fifteen?
Joe wrote last week that it's a major issue facing Dirk Koetter, now that America's Quarterback has been suspended for three games. But it goes beyond Koetter managing the trust problems. It's a serious locker room thing for a QB, explained Hall of Famer Terrell Davis and former Pro Bowl center Shaun O'Hara on NFL Network this week.
Davis was adamant that Jameis is back to Square 1 with his teammates.
"He has to earn that trust back. That trust, to me, is gone until you earn it back. And it's not by words," Davis said. "It's about your actions. In a locker room, your actions speak louder than what you say."
O'Hara said Jameis must stand up and address his teammates about the suspension, something Joe was told by a reliable source that Jameis did not do last year or this year.
Joe already is on record stating Jameis is not a good leader and shouldn't be considered one. One look at his current status and his team last year is a clear indication. But things can be repaired. It will require skillful management by Koetter and a more communicative Jameis to emerge.