Now Dirk Koetter Has A Trust Issue
June 21st, 2018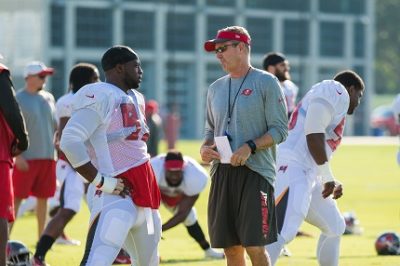 Dirk Koetter had plenty on his plate as June minicamp concluded. Readying a 5-11 team with many new parts for September dates with the Saints, Eagles and Steelers is no easy task.
Now he's got a new challenge.
With the inevitable suspension of America's Quarterback, Jameis Winston, Koetter must skillfully manage the trust issues that will arise within his team.
Buccaneers players are human. Many, or maybe just a handful, will believe Jameis is guilty of something inappropriate and will subsequently question the organization and Jameis. That's just the nature of people.
Joe learned months ago from players that Jameis did not address the Uber incident in any group form with teammates in the locker room, even just to tell them he'd talk with anyone privately if they wanted the truth directly from him. It became just one of those unspoken things and players were left to implicitly trust their leader, the face of the franchise, Jameis.
Well, now many of those players will believe their guy is an inappropriate crotch-grabber, whether he is or isn't.
Fair or not. That's the way it is.
Koetter has to find a way to deal with that doubt, and a team that likely won't be as strong — mentally or physically — as it would have been with an exonerated Jameis. And, sorry to say, this Bucs team was mentally weak and fragile for much of 2017.
Assuming Jameis doesn't have any prolonged appeal process sits to start the season, Joe sure hopes Koetter does the smart thing and treats Ryan Fitzpatrick as the No. 1 quarterback through training camp and preseason. Give him the vast majority of reps and prepare for the games without Jameis as if they're the Super Bowl.
More important, that would put Fitzpatrick in a position of strength to unify the team and be the best QB he can be.
Koetter owes that to his players and the fans.