A Word About Rookie Contracts
May 25th, 2018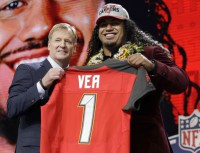 Drafted Buccaneers rookies are signing their contracts right and left, including Vita Vea.
Here's why Joe doesn't write about this annual happening.
It's really quite simple. At JoeBucsFan.com world headquarters, a rookie signing his deal is only news if it doesn't happen. Plus, the Bucs have room for all the contracts under the salary cap, so it's a non-issue.
All these guys are slotted under the rookie wage scale. They have almost zero leverage and there's just about nothing to negotiate.
Yes, there's something called "offset language" that a rookie will occasionally attack with his agent. And that really only has to do with how it's handled if the guy is cut and then signs with another team. Kind of like how Josh Freeman got to double dip after the Bucs cut him in Year 5 of his rookie contract and then he signed with the Vikings soon after.
But the offset language is rarely challenged because it's reasonable. Rookies want in, want their fat check and don't want to cause a ruckus over clauses that are unlikely to affect them.
Joe's glad Vea got paid yesterday. His family has a neat story of living without a lot of cash in Northern California.