Show The War Face, Warhop!
May 21st, 2018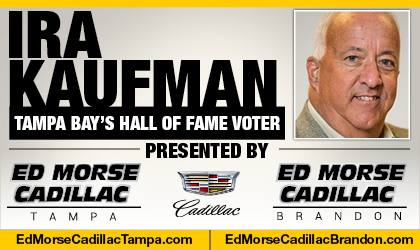 Ira Kaufman is the most revered sports personality and writer in town. He has hung his hat at JoeBucsFan.com world headquarters since July 2016. Tampa Bay's only Pro Football Hall of Fame voter, Ira busts out columns here every Monday, Wednesday and Friday, and his award winning podcasts fire Tuesdays and Thursdays. You can also hear Ira on SiriusXM Mad Dog Radio Wednesdays during football season, and see him now on Mondays at 10:30 p.m. on Spectrum Sports 360 (aka BayNews 9). Ira also is part of the FOX-13 Tailgate Sunday show and enjoys beet salads, Riesling, Chiefs victories and needling Joe.
BY IRA KAUFMAN
You can blame Doug Martin until your face turns pewter, but that doesn't explain why Tampa Bay's offensive line has been outworked and outmuscled for the past two years.
The defensive front of the Tampa Bay Buccaneers has been completely overhauled. New players, new assistant coach. But there hasn't been nearly the same upheaval for the men charged with protecting Jameis Winston and carving open running lanes.
Free-agent center Ryan Jensen is the notable addition as George Warhop returns for his fifth year as offensive line coach.
After an outstanding season by his unit in 2015, Warhop insisted he would be the same exacting taskmaster, kicking backsides and taking names. Instead, Warhop's message got lost in translation the past two years.
Since Dirk Koetter was promoted from offensive coordinator to head coach, Warhop's guys haven't gotten the job done — especially in the ground game.
Simple as that.
When Warhop arrived four years ago to work on Lovie Smith's inaugural staff, he laid it on the line in terms of responsibility.
"I'll be honest with you, I think we determine the entire team," Warhop said. "How my guys play and practice has a great effect on the whole team. I firmly believe we are the linchpin to us being successful. Selfishly or not, that's what I believe."
Despite working for five previous NFL organizations, Warhop had no answers in 2014 as the Bucs went 2-14, finishing last in total offense and allowing 52 sacks. That's what you get when you trust Anthony Collins to be your rock at left tackle and ditzy Jeff Tedford gets sick and goes AWOL.
Once Koetter came aboard, Tampa Bay's run game flourished, despite Donovan Smith and Ali Marpet starting as rookies and Jameis Winston taking every snap under center. Martin and Charles Sims formed a stellar running back tandem, giving Warhop reason to believe he was in charge of a dynamic position group.
How times have changed.
X-Factors, Heart Factors
Jensen should be a rugged anchor this fall, but serious questions abound. Who will start at right guard? Can the Bucs trust Demar Dotson to stay healthy? How will Marpet adjust to yet another position switch? Is Smith ready to take that next step toward Pro Bowl consideration?
For Warhop, talent only gets you so far. The rest is from the neck up and the heart … especially the heart. He doesn't talk about technique nearly as much as he talks about toughness, finishing and compete level.
By Warhop's own admission, Tampa Bay's offensive line failed to compete through the first half of last season. By the time Warhop's group woke up, the Bucs were 2-6 and destined for another last-place finish.
Maybe Warhop got spoiled coaching a future Hall of Famer in Cleveland, where Joe Thomas defined what it means to be a pro. When Thomas retired, he praised Warhop for accelerating his development.
"I was pretty good before he arrived," Thomas said, "but he helped take my game to the next level."
Leaning On Coaching
These Bucs don't have a Joe Thomas to lead the way. Not coincidentally, the offensive line hasn't been the same since Logan Mankins called it quits.
Overseeing the progress of young players like Smith, Marpet and Caleb Benenoch has been made more difficult due to the league's restrictions on practice time.
"The new CBA is a detriment to offensive linemen and probably defensive linemen as well," Warhop says. "It makes it harder for us to develop a player. It's a negative for the big guys."
Warhop still believes the play of the big guys will be pivotal to Tampa Bay's success. He's correct. Koetter wants a badass football team and it starts up front with a demanding offensive line coach.
Show me your war face, Mr. Warhop.