Makeover
May 17th, 2018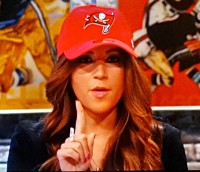 Peter Schrager is on a rampage.
The amiable co-host of "Good Morning, Football" seen weekday mornings on NFL Network has been on a tear of late. He has thrown the words "soft" and "softy" around lately and when he does, he's looking right at you, the Bucs defense.
Well, to be specific, Schrager has been calling out last year's Bucs defense, which was pathetic by any sober standard. The Bucs — you may have heard — are now nasty on defense because of the massive influx of talent this offseason by Bucs AC/DC-loving general manager Jason Licht.
Maybe it is just Joe, but this narrative pushed that the Bucs defense in a matter of weeks went from Charmin-soft to a band of Hells Angels marching down Gulf Blvd. wearing brass knuckles and carrying nunchucks (nunchakus?) is getting to be a bit much.
Not that long ago, the Bucs signed a nasty player who played with an edge and a mean attitude who was supposed to transform the defensive line into a bunch of starved Dobermans and hold teammates responsible.
Who was this guy? Mr. Beasting, Robert Ayers, who the Bucs released this spring just two years into his contract. Ayers, who allegedly had a nasty bite, was part of the rancid Bucs defense last season and remains unemployed.
So all this talk that the new-look Bucs defense is akin to the employment line in "Blazing Saddles" has already worn thin until Joe sees actions on the field matching the loaded words.
As far as Schrager's quality rant this morning? Well, Joe wouldn't compare last year's Bucs defense to a six-room house with a three-car garage. More like a used, unkempt Porta Potty that has been left in the Florida July sun too long.
Most home makeovers are luxurious and fancy. The @Buccaneers ? They tore it all down and got nasty this spring. @PSchrags says the Tampa Bay defense went ugly this offseason… and he loves it. pic.twitter.com/eo87JZSfT3

— GMFB (@gmfb) May 17, 2018