Full Defensive Dismantling, Rebuilding & Teaching Change At One Buc Palace
May 17th, 2018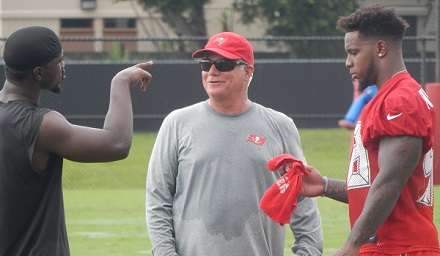 The juice was detailed today on the Ira Kaufman Podcast, via special guest Mark Duffner, the Bucs' linebackers coach.
Duffner revealed that Mike Smith and the defensive staff didn't take a status quo — aka status woe — approach to the defense and attacked change in an unique way this offseason.
Duffner explained that not only was the defense dissected and broken down to its very core elements, coaches started re-teaching it from scratch and players have been highly involved in the teaching process under coaches' supervision.
That's hardly typical from a veteran staff in Year 3 of its tenure with a team.
"We've re-committed to really establishing this defense from the ground up. We've really worked hard right now at kind of unraveling everything, starting all over, building it from the basement so that our foundation is strong and we go forward from there," Duffner said.

"It's been Coach Smith's and the staff's plan from the get-go [this year], and it really started with us. We took [the defense] apart in the offense and made sure that again, we were detailed in how we're coaching, teaching and presenting techniques and scheme to our players. And then when the players came back, we started off in the classroom in Phase 1 of [spring conditioning]. And from the get-go, from a communication, an active participation of our players as we taught a defense, it wasn't coach directing players writing and listening, which was part of it. But then [players] were part of it in terms of being able to demonstrate actively what their responsibility is in communication to one another in front of the group. A player went up and would be involved in installing the defense or saying what's going on. So there was true ownership and investment as we were puttin' in the defense step by step."
There's more from Duffner in the podcast linked above. And yes, Duffner acknowledged that this approach with the players represents real change from last year.
Man, Joe is so pumped up to hear that Smith and Koetter, as the defense is his ultimate responsibility, are not the kinds of guys to rest on big egos and believe that their system makes sense and only needed better players.
This is the essence of coaching. If it sucks, break it down, tear it down and build it back up with a fresh look and approach.
What a great sign. Frankly, it helped Joe sleep well last night. There are enough good defensive minds on the Bucs staff to pull this defense by the hair and turn it into at least an average unit.