"You Know I'm Going To Be Talking Crazy To You"
May 10th, 2018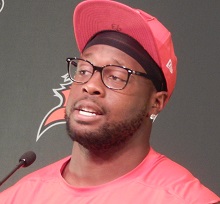 Gerald McCoy had a little fun this offseason hanging out with a guy he'll likely be trying to tear to the ground in October.
In this official NFL video below, McCoy is filmed before the NFL Draft hangin', dancing, laughing and chatting with the No. 1 overall pick, Browns quarterback Baker Mayfield. Both are football icons at the University of Oklahoma.
Among the highlights, McCoy is stunned that in an Oklahoma campus display of Sooners who went on to the NFL, there is no Buccaneers jersey of No. 93. Other teams' jerseys are there representing their Sooners studs.
Also, McCoy, who often says he doesn't like trash talk, tells Mayfield, "you know I'm going to be talking crazy to you," if they get to face each other.
The Bucs host Cleveland on Sunday, on Oct. 21.
College life with @BakerMayfield?

The Heisman Trophy winner gave former @OU_Football star @Geraldini93 a tour of campus (and his old dorm room)! #Back2Campus

📺: 2018 @NFLDraft, April 26-28 on @NFLNetwork #NFLDraft pic.twitter.com/NH2NuqPLsQ

— NFL (@NFL) March 26, 2018