Joel Glazer Talks Unflappable Leadership
May 28th, 2018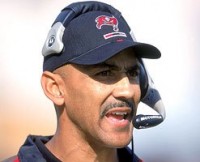 A very special moment in Tampa Bay history is four short months away, and it was a topic of conversation last week between JoeBucsFan.com columnist Ira Kaufman and Buccaneers co-chairman Joel Glazer.
On September 24, Father Dungy, aka former Bucs coach Tony Dungy, will head to the Buccaneers Ring of Honor at halftime of the Bucs-Steelers game on Monday Night Football.
Glazer reflected on the how and the why Dungy was able to transform everything about the team, from community perception to the scoreboard.
"He changed the culture of the Tampa Bay Buccaneers," Glazer said. "At the time, it was not an easy thing to come in and do. He had a vision for what he wanted this team to be, on and off the field. He got that message across to players and changed the way the entire community looked at the Buccaneers. Anybody that knows Tony knows he's very consistent in his message and his approach. When people know this is what we're trying to accomplish and it's not going to change, everybody gets on board. On the field and off the field, equal importance."
Ahh, "consistency in his message and his approach." For some coaches, that means a stubbornness that leads to their downfall. For others, it's the formula for transformative success. Man, Joe sure hopes the Koetter way is the latter. Another losing Bucs season might seriously drive Joe into a deep dark depression.
.
Glazer was right on point and Dungy is so, so deserving of the Ring of Honor. Win or lose, it'll be an important night.