Chris Godwin Talks Injuries, Schedule And Guys Getting "Hooked Up" At Clubs
May 7th, 2018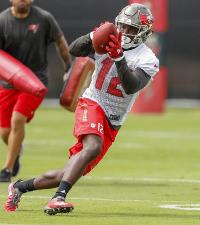 A great peek into receiver Chris Godwin was served up recently by Godwin himself and a writer who appears to be a family member.
Writing for a Cabrini University publication, author Annette Godwin typed up a feature on the Bucs' second-year receiver.
Chris Godwin shared plenty, including how NFL life was a surprise to him because he wasn't expecting the extremely long work days.
The latter intrigued Joe because Godwin came from Penn State and certainly had former teammates and NFL-knowledgeable people from which to learn before arriving in Tampa. He even trained with former NFL coaches leading up to the 2017 draft.
The excerpt below is a Godwin take on growing as a professional and seizing opportunities:
"There's so many players on the team that can impact your life and vice versa that it's beneficial to just build connections with those guys," Godwin said. "Aside from teammates, there are people in other fields that you come in contact with– other athletes, clothing brands, educators – that we have access to because of our occupation and that's a dope thing because networking is huge in our society. I'm not really one to go out and party and stuff like that, but I know a lot of guys that get hooked up whenever they go to clubs because they essentially make more people want to go to see them there."

Different obstacles players may have to face, but they have to be  strong enough to face them all with their  team to help each other build and become stronger.

"There are struggles that we all face each week of our preparation," Godwin said.  "Some are just more serious than others. One of my first struggles was just adjusting to the little details that I would need to be successful at this level. Some of the things I would do in college won't work in the NFL, so I had to go through those struggles to figure out what exactly I needed to do to be successful. One of the bigger struggles I had in my rookie season was dealing with injuries toward the end of the year."
Yes, there's lots of learning as an NFL rookie. (Hmm, so what Bucs get hooked up in the clubs?)
And more than any Bucs rookie Joe can remember over the past 10 years, outside of Jameis Winston, Godwin gets passionate, glowing reviews from teammates and Bucs officials at the mere mention of his name.
Joe's not sure how much playing time Godwin will get this season, but he'll be out there grinding on special teams and trying to snatch a full-time job from DeSean Jackson.
Joe hopes Godwin is so damn good that he forces Dirk Koetter to alter the offense to get him more touches and use more three-wide-receiver sets.