"Like Validation For Me That I Do Have What It Takes"
May 11th, 2018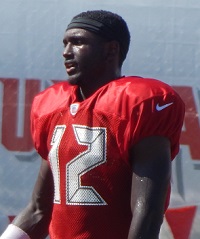 General manager Jason Licht has not been shy about saying the desired prototype Buccaneer is second-year wide receiver Chris Godwin.
Whenever Joe mentions Godwin to Bucs players or officials, man, their faces light up and they take a reverent tone at the same time. It's almost like Godwin is some sort of national treasure.
Joe can only compare it to the way folks at One Buc Palace responded when asked about America's Quarterback, Jameis Winston, during his first two seasons.
Anyway, the next Roddy White (aka Godwin) is an intense cat who is ready to build on the seven catches for 111 yards and a touchdown he had against the Saints to close last season. Godwin finished 2017 with 34 catches for 525 yards and that one dramatic game-winning TD.
As a guest on WDAE-AM 620 this week, Godwin said the finale against the Saints, a game in which he was targeted a season-high 12 times, wasn't just another outing for him.
"I think it did a lot for me, especially scoring that last touchdown, it was kind of like validation for me that I do have what it takes to play at this level," Godwin said. "It really boosted my confidence going into the offseason, as well as it showed me things I need to work on."
After hearing that take, well, maybe it was 100 percent spectacular for the Bucs to win that game, which cost them critical draft position.
More highlights from Godwin's interview:
*Godwin said he learned a ton from DeSean Jackson and Mike Evans, including "picking apart coverages" and attacking "different styles of defensive backs."
*Yes, Godwin spent time working with Jameis over the team's winter break. He believes that goes a long way toward building chemistry. Godwin also spent a lot of his down time on route-running.
*Godwin says he doesn't set any statistical goals for himself because he believes it takes away from his maximize-every-day approach to the game.
*"Exciting!" is how Godwin described the Bucs' tough opening schedule against the Saints, Eagles and Steelers.
*Godwin says he watched the NFL Draft closely with a close eye on his former Penn State teammates, including rookie running back Saquon Barkley. Godwin called him one of the most humble people he knows.
*Godwin says he will train through his summer vacation except for one week "to reset the mind; reset the body."