When Barkley's Gone, Then What?
April 23rd, 2018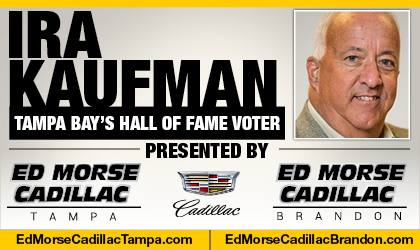 BY IRA KAUFMAN
If you're looking for a 7-round mock draft, you've come to the wrong place.
That's a foolish exercise, primarily because you have no idea who is still going to be on the board. Alright, I admit it — I haven't watched much film of the left guard at Colorado State or the punter at Northwestern.
But what I can do with some authority is analyze the top of the selection process Thursday night and how it might impact the Bucs.
The first rumor that needs to be sacked is the crazy speculation that the Browns might take quarterbacks at No. 1 and No. 4. Although that's a move worthy of the NFL's most comical franchise, not even the Browns can be that dumb.
Why dumb? Because you are basically acknowledging that at least one of your two premium picks won't contribute in 2018.
Even if Cleveland lands a franchise quarterback in that scenario, the other pick will be left holding a clipboard … if he even makes the team.
What the Browns should do is grab Saquon Barkley to kick off the draft, then follow with a quarterback at No. 4. If Cleveland instead takes a quarterback first, the odds are good that Barkley will be gone within the next two picks.
If the Browns go quarterback at No. 1, I can't see the Giants passing on Barkley. That would add another dynamic player to an offense still led by Eli Manning for the foreseeable future.
"There are a lot of good running backs in this class," says ESPN's Todd McShay, "but Barkley's different."
Guessing Games
If the Browns grab Barkley first, I can see the Giants entertaining offers to trade back. The Bills may try to move all the way up to No. 2 and get their quarterback of choice.
I'm not sure the Jets know what they're doing. Hey, they're the Jets. They paid a king's ransom to the Colts to move up three spots to No. 3, theoretically to ensure they can grab a dynamic quarterback.
But which one?
For the exorbitant price they paid, the Jets needed to guarantee they could select the guy under center they covet most. That may happen, but there's a decent chance two quarterbacks will already be off the board by the time the Jets turn in their card.
The Browns have a chance to build some real momentum if they come away with Barkley and a quarterback. Last year's No. 1 overall selection, Myles Garrett, is the real deal, a pass-rushing defensive end slowed by injuries as a rookie.
Should the Browns pick the right quarterback, they have a real chance to turn things around.
Heartbreaker Colts
The Broncos need a pass rusher to take some pressure off Von Miller, so Bradley Chubb looks like a smart pick at No. 5. Denver's defense is in transition and Chubb is widely considered the premier defensive lineman in the draft.
At No. 6, the Colts can go in a lot of different ways. If the Broncos pass on Chubb, Indy won't hesitate to grab him. The Colts could trade back — or they could break Jason Licht's heart by choosing Quenton Nelson.
Should the Bucs end up with Nelson, he looks like a natural at No. 7.
What's not to like? He's one of the best guard prospects in a generation, a mauler who could transform Tampa Bay's offensive line into a dominant unit.
Listen up as Nelson describes his approach. Cue the goose bumps.
"What I want to do is keep my head down, work very hard, learn from the older guys and earn their respect by how I carry myself," Nelson says. "As a blocker, my mindset is to dominate my opponents and take away their will to play the game. Yes, I would consider myself a nasty player."
I've heard enough. I've seen enough. Nelson passes both the eye test and the ear test. Nelson's so special, the Bears could try to vault the Bucs and grab him by moving up from No. 8 to No. 6.
That possibility is keeping Licht up at night.
Buc fans should be delirious if Barkley, Chubb or Nelson sports pewter this fall.
They will wear it well.