Welcome Back, Charles Sims!
April 26th, 2018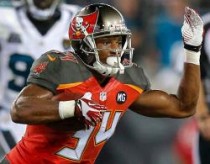 Hey, Joe told you last week to look for this. And now the Bucs have gone ahead and re-signed their 2014 third-round pick.
Charles Sims is back in a Bucs uniform, per NFL Network, after leading all Bucs running backs in snaps last season by a wide margin.
He was on the free agent market for the past six weeks.
After a pure stud 2015 season, Sims caught the Doug Martin Flu in 2016. Last season he recovered, playing every game, running the ball reasonably well when he got a shot, pass blocking efficiently well and hauling in 35 balls.
Sims, 27, is a solid No. 4 running back in the NFL with enough talent to help you win a game.
Now the Bucs have three running backs on the roster and can feel a tiny bit less pressure entering the draft, but they still are in need of a running back to challenge/complement Peyton Barber.
At a news conference last week, the minute center/guard Ali Marpet was asked about losing Doug Martin and Sims in the backfield, and replied he wasn't so sure about Sims, Joe knew something was up. Joe's various sources got tight-lipped quickly about Sims, so it appeared clear that the Bucs and Sims were negotiating.
Man, what if the Bucs sign C.J. Anderson soon and don't draft a running back? Joe would be ok with that.