Steve Wyche Talks To Joe
April 10th, 2018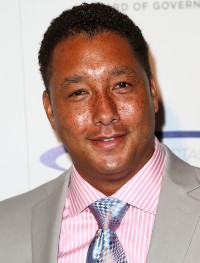 [Joe is cleaning out his recorder of folks he has spoken to on the record since 2018 began. Here is a chat Joe had with NFL Network senior reporter Steve Wyche about the Bucs.]
JoeBucsFan: What happened to Mike Smith? In 2016 it looked like he had that defense turned around. In 2017, it blew up in his face.
Steve Wyche: I don't know if it is on Mike Smith. It is hard to tell what happened with that team. Everyone thought that team would be good. Defense was probably on the field a little bit more than they thought and they had a couple of injuries. I just think overall, probably coaching all the way from the positions [coaches] to the players to the execution. They became unhinged. The whole team. I was surprised. I thought they would be very good. [Smith] is a heck of a coach. I don't think it was coaching. At some point, however, the buck has to stop with someone.
Joe: With the offense, that team was one-dimensional before the National Anthem was played. For whatever reason they stuck with Doug Martin, far, far too long. And then when Jameis got hurt, it made things even worse.
Wyche: Jameis' injury, yeah and they had injuries to the offensive line. There was no flow. That was the main thing. You saw that the year before. Quick passing game. Even if the offense was struggling they had a tempo. They never seemed to get that on track, so do a lot of teams look at the Falcons. There was just no tempo. I think they need to re-assess if they want Jameis to be a five-step guy every time they drop back or can they do somethings to get everybody involved like the Vikings did this year? With the running game, it all starts there. And yeah, they had some injuries to the offensive line. I thought [Ali] Marpet was fantastic at center. I thought he played really well, especially for never playing it before. I saw him play a couple of games and he was really good. But they whatever they want to do, they have to set up the run.
Joe: With Jameis, when he was healthy the last month of the season, he looked like a completely different quarterback.
Wyche: I totally agree. I totally agree. I thought he was trying too hard at times. I think at times that wears on some guys to just play ball. When he came back, I thought he was fantastic. And that is the quarterback they know they have. You just have to put him back in that pocket, a literal football pocket and keep him in that vacuum and let him be that guy.
Joe: Thought it was interesting what DeSean Jackson said about Jameis. He said he told Jameis late in the year to stop pleasing everybody, stop trying to impress everybody. Be you.
Wyche: That is Jameis! That's what makes him, him. He wants to succeed so much he overdoes it. He stresses. And I just think as he ages and gets more experience, and wins some ballgames – this is a guy used to winning. And he hasn't gone through this type of adversity. I just think that he gets some success and understands it is not all on him, rely on other guys and he does his job and let others do theirs.