Ronald Jones Can Catch
April 27th, 2018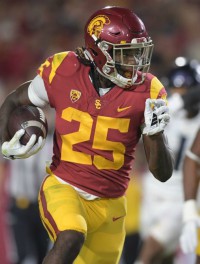 Joe fielded some questions on Twitter and he has seen it in the comments on this here website.
Yes, Ronald Jones can catch the ball. USC didn't throw him the ball, that is the issue.
In a conference call for the Bucs pen and mic club this evening, Jones was asked about catching. He has no doubt; it's not an issue.
"My hands are real good," Jones said. "I didn't get to see that many opportunities [to catch] at USC. I feel it comes natural. Like a second sense."
Jone was so productive as a runner, breaking off six yards a carry and only three times this past season not running for at least 116 yards in a game, why the hell would a coach even think of throwing him the ball?
Folks who watched #PAC12AfterDark already knew this.