It's Cornerback M.J. Stewart In Round 2 (Pick 2)
April 27th, 2018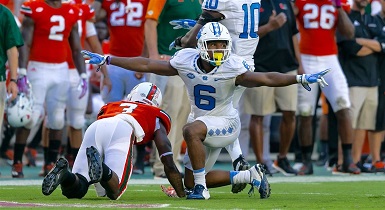 UPDATED: 8:43 p.m. – He's an all-ACC cornerback known for being physical and tough.
It appears the Bucs just drafted their new starting cornerback in M.J. Stewart out of North Carolina with their second pick of Round 2 — with one more second-rounder to go.
Stewart will have to man-up in a hurry with New Orleans on the schedule in four short months. And, yes, Joe assumes Stewart is better than Ryan Smith.
Joe likes that Stewart is a four-year starter, but man, it's hard to stomach zero picks over the last two seasons.
Hey, the Bucs won nine games with a 21-year-old smallish and fast rookie cornerback in 2016.
No reason they can't do that again with another rookie and a much better pass rush.