Matt Forte Makes Sony Michel Seem Bucs-Ready
April 25th, 2018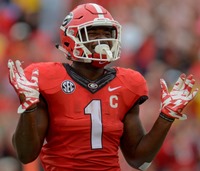 A poignant and intriguing take on Georgia running back Sony Michel was delivered today by one of the great running backs of this decade: Matt Forte.
Now an emerging media voice on SiriusXM NFL Radio, Forte knows plenty about a running back's workload and rhythm. Only 22 men in NFL history have more touches than he does.
Forte has been studying the running backs in the draft and he's very high on Michel. Today, Forte marveled how Michel ran the ball last season with a tremendous rhythm, passion and effectiveness despite limited carries in a part-time role.
That's rare stuff, Forte explained, discussing how most top backs at any level need a build-up of carries for peak effectiveness.
Michel's 7.9 yards per carry and 16 touchdowns on the ground last season with just 11 carries per game really had Forte tipping his cap. By contrast, Forte said, Saquon Barkley never really came off the field, including playing special teams. That was no knock on Barkley, just an illustration.
Michel is primed to step into the NFL and share carries, Michel said, and that's rare advantage among college backs.
Of course, that got Joe thinking of how Michel landing Tampa would immediately put him in a competitive position with Peyton Barber. Before you laugh that off, the Bucs believe in Barber and Joe is confident Dirk Koetter wouldn't sprint at the chance to trust a rookie running back carrying the load and pass blocking. So it would help to have a rookie back used to sharing.
Would Michel last until the draft's second round on Friday night? Maybe the Bucs get that lucky. Maybe.