Kevin Pamphile Didn't Get Paid
April 1st, 2018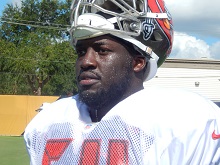 In a league that bemoans a lack of quality offensive linemen, one would think a versatile, 27-year-old with plenty of starting experience like Kevin Pamphile would command a decent contract.
Well, Pamphile is Bill Gates compared to an average guy like Joe, but the Bucs free agent who signed with the Titans recently is getting peanuts by NFL offensive line standards.
Tennessee, per Spotrac.com, will pay Pamphile $1.4 million on a one-year deal this season, with $400,000 guaranteed.
The guy who shared left guard in Tampa with Evan Smith simply didn't get paid. Joe has to assume the market isn't there. Joe had a nice chat with Pamphile shortly after the 2017 season and he hoped to stay with his Bucs brethren — and to get paid.
Joe sincerely thought the Bucs would offer Pamphile a solid two-year deal at good backup money, but apparently they had other plans. Smith, 31, doubled up on Pamphile with a two-year, $6 million deal from Bucs general manager Jason Licht.