Joel Glazer Talks Evaluating A General Manager, Fan Frustration, Storytelling
April 2nd, 2018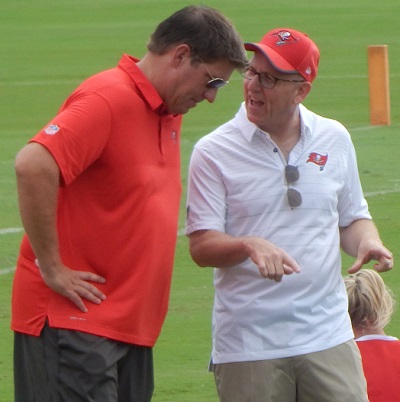 Perched in a quiet corner of the stately Ritz-Carlton Grand Lakes in Orlando last week, billionaire-family member and Buccaneers co-owner Joel Glazer joined blustery blogger Joe for their annual sit down.
Oh, what fun it is.
Joe will take a few seconds here to suggest Team Glazer should emerge for public consumption more often, say, three times a year. Fans love hearing from ownership. It helps connect them to their team — no matter the team — in ways that cannot be duplicated. Plus, Team Glazer loves the Bucs. They ooze pewter and red from every orifice. Joe thinks the Bucs definitely would have a more committed fan base if the average fan felt a little more of the fiery passion pulsating through the guys calling the shots.
Alright, Joe is off the soapbox!
Back to Team Glazer, Joe had the following verbatim exchange below:
It's a great look inside the raw passion of the owner. Joe didn't ask about fans, frustration or patience, but Glazer went there.
JoeBucsFan.com: Can you talk about the evaluation of a general manager, how difficult that is and what goes into that when you have to figure out, 'Are we on the right path but we're 5-11'?
Buccaneers co-chairman Joel Glazer: A lot goes into it and, you know, I think one of the positive signs in any situation is re-signing your own players. And when you start getting on a trend that you're re-signing your own players, that means you are drafting well. If you're drafting well, generally that means you're going to start having success. So you saw Cameron Brate and Mike Evans [re-signed]. We got a couple of young guys with contracts that are coming up that we know we're going to want to keep. So that to me is the most positive sign of, you know, what's happening with the general manager. There's lots of aspects to the whole thing, not just drafting, there's free agency and ultimately your record. So it's one of those things that tells its own story over time. Again, we're frustrated. I know a lot of our fans are frustrated. And when you get in this cycle of it's been a while since we've had success, the magnification and spotlight get so great year to year and they want to change directions and change things. And I get it. Listen, we got to remind ourselves sometimes. You have to have some patience and look for the positives. People like to point to coaching; well, you also have to have the players. Injuries play a factor, and all these things. So Dirk [Koetter] was 9-7, all the positives coming out of that season. We had last season, which was below anybody's hopes and expectations. We're focused on this year and we've added clearly in areas where we needed to add, and we still have the draft.