A Forever Buc Keeps On Driving
April 2nd, 2018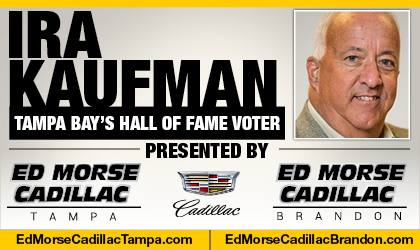 BY IRA KAUFMAN
You never know who you're going to run into at the NFL owners meetings.
The league's movers and shakers gathered at a posh Orlando resort last week for a little sun, fun and golf. In between, they managed to get some business done.
When my wife and I arrived for the annual pool party, a big man greeted me in the lobby. He gave me a bear hug that I'm still recovering from, but it's always good to see Donald Penn.
The former left tackle of the Buccaneers was in town to participate in a youth football clinic. He still follows JoeBucsFan.com religiously and Penn is on top of Buc news, even though he is now playing in the other Bay area.
Penn is listed at 315 pounds, but that's fake news. He's 330 if he's a pound, but that playing weight seems to suit a three-time Pro Bowl player who was involved in one of the biggest gaffes in recent Buc history.
After seven accomplished seasons in Tampa protecting the blind side of an array of quarterbacks, Penn was released in 2014. The Bucs quickly jumped on Anthony Collins in free agency as Penn's replacement.
"Watching all the tackles, he's the one that jumped out the most to me," Jason Licht said, explaining why the Bucs pounced on Collins.
To say Collins was a free-agent bust is a little like saying Harvey Weinstein is a bit of a dork.
Meanwhile, the Raiders scooped Penn up five days after he was jettisoned by Licht and new head coach Lovie Smith. Until he missed the final two weeks of last season with a foot injury, Penn had reeled off a dazzling streak of playing in 170 consecutive games.
Penn said some nice things about Bucs left tackle Donovan Smith, but added that Smith still needs to work on his technique after three seasons.
When I mentioned Jameis Winston, Penn arched one eyebrow and suggested Tampa Bay's franchise quarterback still has much to prove at the pro level.
Throwback Signings
Oakland's slide from 12-4 to 6-10 still rankles Penn, but he's looking forward to working with Jon Gruden the second time around.
"I love Coach Gruden," Penn said. "I started my career off with him. I know the mentality he has. I know the passion he has for football, and I told him when I talked to him, 'You're coming into a room of hungry dogs' because we didn't like the way we ended last season."
Penn, who turns 35 in April, made it the hard way. He was undrafted out of Utah State but eventually landed in Tampa, where Gruden installed him as a starter a month into the 2007 season — the last time the Bucs made the playoffs.
Buc fans still remember how Penn and his teammates up front opened huge running lanes for Earnest Graham against the Giants in the opening quarter of a postseason matchup. Then Gruden veered away from the ground attack and the Giants won 24-14, the first step in their improbable championship run.
Now Penn is eager to resume acquaintances with Doug Martin, who ran for 1,454 yards as a rookie in 2012, with Penn making all 16 starts for Greg Schiano.
"Martin is smart," Penn said. "He's always going to be in the right spot. He's small and tough and strong, so he gets to hide behind us, and then he just pops out. He did that so many times in Tampa. He does a good job of finding those little creases in the hole and breaking through them. That's another guy that has a chip on his shoulder, so I can't wait to get him out there."
Yes, Penn still has his passion for the game after 11 years in the trenches. He's upset that his ironman streak ended last December, but he's ready to start another one with Chucky screaming in his ear.
"We're all coming in with a chip on our shoulders," Penn said, "and I think our coach has the biggest chip of 'em all."
Ira Kaufman is the most revered sports personality and writer in town. He has hung his hat at JoeBucsFan.com world headquarters since July 2016. Tampa Bay's only Pro Football Hall of Fame voter, Ira busts out columns here every Monday, Wednesday and Friday, and his award winning podcasts fire Tuesdays and Thursdays. You can also hear Ira on SiriusXM Mad Dog Radio Wednesdays during football season, and see him now on Mondays at 10:30 p.m. on Spectrum Sports 360 (aka BayNews 9). Ira also is part of the FOX-13 Tailgate Sunday and enjoys beet salads, Riesling, Chiefs victories and needling Joe.