What Jason Licht Hopes For
April 11th, 2018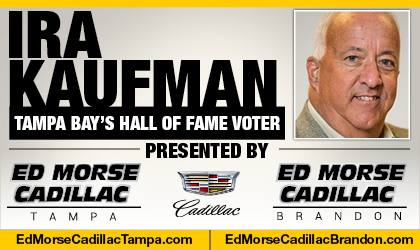 BY IRA KAUFMAN
Remember how Jason Licht once made a habit of jumping into his pool after he returned home from a Bucs victory?
On draft night, he might be tempted to hurl himself into the Gulf while howling at the moon.
Hard to believe, but speculation continues that Saquon Barkley could still be standing atop the draft board when it's Tampa Bay's turn at No.7. That scenario sounds crazy, but there's a chance Barkley slips past the Browns (twice), the Giants, the Jets, the Broncos and the Colts.
And if that's the case, the Bucs should waste no time turning in a card with Barkley's name on it.
None.
As much as I love Quenton Nelson, if the Notre Dame guard and the Penn State running back are somehow both available for the Bucs, I'm going with Barkley.
It's a beautiful thing when talent and need meet head-on at the top of your draft board.
"Saquon Barkley is a transformational back," gushes NFL Network's Mike Mayock. "I would put him in the same category as Fournette, Gurley, and Zeke Elliott, all of whom have been Top 10 picks and made their teams better immediately."
Nelson's a stud and Bradley Chubb looks like the real deal, but in sheer terms of need, running back and cornerback top the Buccaneer priority list. And there's no way Denzel Ward grades out higher than Barkley on Licht's draft board.
Supporting Cast
Gil Brandt, the former Cowboys player personnel guru who should be in the Pro Football Hall of Fame as a contributor, says Barkley "might be the best running back to come out of college since Barry Sanders."
That's almost 30 years ago.
I know what some of you are thinking– the Lions didn't do much while Sanders was fashioning a majestic career.
That's true, but take a gander at the men under center during Detroit's decade with Sanders: Erik Kramer, Rodney Peete, Bob Gagliano, Scott Mitchell, Dave Krieg, Charlie Batch and Frank Reich.
In Tampa, Barkley would be joining an offense with Jameis Winston at the helm and one of the deepest receiving corps in the NFL.
Big difference.
"My top-ranked overall prospect in this class, Barkley can do it all," says ESPN's Todd McShay. "An explosive runner with a rare combination of size, speed, body control and competitiveness, he ran a 4.40 40-yard dash at the combine — at 6-foot, 233 pounds. That's just silly. His lateral agility is terrific and he can make defenders miss in a phone booth or run away from them in the open field. He's also a nightmare to deal with as a kickoff returner."
Can you imagine the uproar in Tampa if the Bucs pass on Barkley at No. 7 for a defensive back? The Stick Carriers would be marching up Dale Mabry carrying spears.
No-Brainer
I just can't see it. I can't see Licht pinning his professional future on a Minkah Fitzpatrick if Barkley's still on the board.
Mayock has it right.
"You talk about the last three or four running backs that went in the Top 10, which were Fournette, Ezekiel Elliott went at 4, Gurley went at 10, McCaffrey went at 8," he said. "They're the last four Top 10 backs. They've all helped their teams become better. I could make the case that this kid Barkley is the best of those guys, best of all five of them. He's clean off the field. And he'll be great in your locker room. I would be absolutely stunned if this kid doesn't go in the Top 5."
What's not to like? Barkley would have an immediate impact on the field and at the turnstile. On paper, this offense would look dynamic.
Licht is hoping to roll a natural at No. 7. He's hoping for Saquon Barkley.
Ira Kaufman is the most revered sports personality and writer in town. He has hung his hat at JoeBucsFan.com world headquarters since July 2016. Tampa Bay's only Pro Football Hall of Fame voter, Ira busts out columns here every Monday, Wednesday and Friday, and his award winning podcasts fire Tuesdays and Thursdays. You can also hear Ira on SiriusXM Mad Dog Radio Wednesdays during football season, and see him now on Mondays at 10:30 p.m. on Spectrum Sports 360 (aka BayNews 9). Ira also is part of the FOX-13 Tailgate Sunday and enjoys beet salads, Riesling, Chiefs victories and needling Joe.