Bucs Announce Preseason Opponents, Dates
April 11th, 2018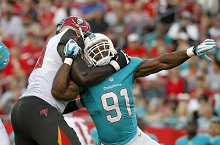 UPDATE 5:33 p.m. – Can't you just smell the pigskin in the air?
Joe is fired up.
Preseason football is four short (long?) months away. But everything feels closer now that the Buccaneers have announced their opponents and the date ranges for the games.
Tampa Bay will hit the road early, play the alleged "dress rehearsal" preseason game on national television in Week 3 of the preseason, and then close it out against the Jaguars backups in the almost meaningless Game 4.
Week 1 (August 9-13)                at Miami                                       TBD
Week 2 (August 16-20)              at Tennessee                               TBD
Week 3 (Friday, August 24)        DETROIT                           8:00 p.m. ET
Week 4 (August 30-31)              JACKSONVILLE                             TBD
Before the Titans game, the Bucs will be in Tennessee for joint practices with the Titans, per Jenna Laine of ESPN.com.
Need tickets? As always, head to FanRetreat.com and use your JoeBucsFan discount code.