Jameis: "Workin' On My Toes"
April 4th, 2018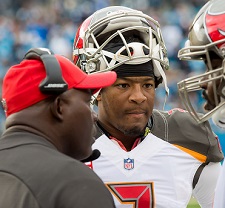 Work. Work. Work.
It's the way of America's Quarterback, Jameis Winston. It's awesome and admirable, but it also dredges up negativity.
While Jameis sets the work-ethic standard for the Buccaneers, skeptics wonder why he struggles with ball security and other correctable mistakes when he's constantly striving to improve and is known for his football IQ.
It's a fair question. Jameis fumbled six times as a rookie, 10 times as a second-year player, and 15 times last year in 13 starts and just under 12 games of total action.
Still, Jameis is 24 years old and his ceiling is limitless. And all that work should pay off to pull him out of the ranks of average NFC quarterbacks.
This offseason is no exception with Jameis grinding out two-a-day workouts in Tampa on his free time and working with private trainers on the little things.
In the video below, which seems to have been released by Jameis' marketing team, he talks about working on his toes and hips this winter, and more.