Gerald McCoy Blesses Vita Vea Pick
April 26th, 2018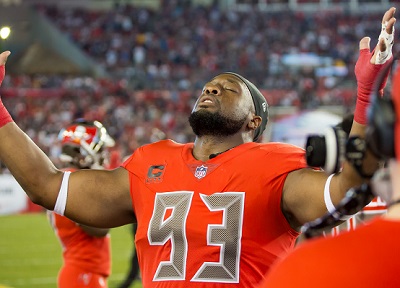 Big No. 93, the six-time Pro Bowler on the Buccaneers' defensive line, is fired up for the newest Tampa Bay defensive lineman.
Perhaps Gerald McCoy realizes that the pick of manbeast tackle Vita Vea out of the University of Washington means McCoy might be able to cut his snaps by 15 percent or so, which could extend his career and make him more effective when he is on the field.
McCoy took to Twitter tonight right after the pick.
HEREEEEEE WEEEEEEE GOOOOOOO!!!

— Gerald McCoy (@Geraldini93) April 27, 2018
McCoy wasn't just blowing smoke. Joe heard from a source that McCoy is very pleased.
He should be. Look what the Bucs gave McCoy this offseason: Jason Pierre-Paul, a gargantuan athletic rookie in Vea, plus fresh Super Bowl winners Vinny Curry and Beau Allen (sorry, Mitch Unrein fans).
McCoy has help, and more help. And Bucs fans have a guy in Vea that can, if he pans out, replace 30-year-old McCoy when his game falls off.