Father Dungy Talks Jameis
April 11th, 2018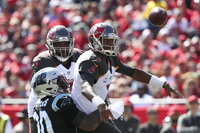 Develop and execute.
Man, when Father Dungy coached the Buccaneers he talked about those two things religiously.
Dungy was a huge believer in developing coaches and young players, and he loved to talk about execution being the only real problem on his football team. Bad offense? It was always execution in Dungy's mind. On the development front, Dungy was one of the very best in the business.
The Hall of Fame head coach is still talking about those two things and he went there on WDAE-AM 620 recently when asked about America's Quarterback, Jameis Winston.
Father Dungy said while it's unclear whether Jameis should have missed more time last season and/or sat out earlier because of his shoulder injury, what Dungy does know is that it was very valuable for Jameis to have played through it.
That investment should be a partial springboard toward a big 2018, Dungy said.
"That experience is going to pay off," Dungy said of playing through injury. "Anytime you're out on the field you learn. To me, that talent is there. I think it's just development and chemistry with these receivers and continuing to grow. I look for an outstanding year."
Dungy sounded a lot like Bucs icon Ronde Barber during his eloquent take on Jameis recently. You can find that linked here.
Barber closed with the following quote about Jameis that sounded a lot like Dungy's message. "Dirk Koetter puts a lot of faith in Jameis. And in his fourth year, I mean, it's time. It's time."