Deep Dive
April 5th, 2018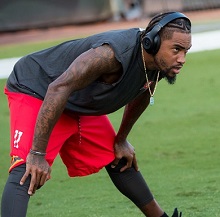 Football life was ugly between America's Quarterback, Jameis Winston, and DeSean Jackson last year.
And now the fancy official NFL Next Gen Stats data is out on deep passes of 20 yards or more. Things are worse than they appeared.
Matt Harmon of NFL.com is the chief guru when it comes to compiling and interpreting the data received from tracking technology in NFL balls and uniforms. Recently, Harmon typed up a formula and a ranking, based on the indisputable computer data, for the top deep-threat receivers in the 2017 NFL season.
Of course, no Bucs made the list. But Harmon referenced in his "Bonus Notes" that Jackson fell very far from his reputation and production with the Eagles and Rams.
And Harmon appears to blame Jameis.
In any other year, Tampa Bay receiver DeSean Jackson, who has been one of the league's premier vertical receivers over the last decade, would have pushed for the list. However, in 2017, his numbers showed just how much communication, timing and chemistry with your quarterback matter when working in the deep game. Jackson ranked 44th on this list, as he caught just five of 26 deep targets from both of the quarterbacks to start for the Bucs, who had a paltry 19.2 passer rating when throwing to him. Working the deep game is a two-way street.
Five of 26. Damn, think about that. An 18 percent catch rate.
Officially, that was on throws targeted to Jackson last year that traveled 20 yards or more through the air. The top 10 deep-threat receivers in Harmon's breakdown averaged about a 45 percent catch rate on deep balls — and it wasn't all start quarterbacks slinging the rock.
If Jackson isn't traded during the NFL Draft (yes, you read that correctly), then he and Jameis have to find a way to fix their deep issues, or Dirk Koetter needs to makes serious adjustments to maximize the abundance of talent on his offense.
Koetter was adamant at the NFL Owners Meetings last week that the film shows Jackson has not lost a step of his elite speed.