Did Cooks Just Knock Gurley From Being The No. 1 Player Picked In 2018 Fantasy Drafts?
April 6th, 2018
Podcast (todd-wright-fantasy-football-podcast): Play in new window | Download | Embed
Subscribe: RSS
Todd takes a look at the recent Rams and Patriots deal from all angles. This is Brandin Cooks' third team in less than three years, so it makes you wonder why. The Rams suddenly are bringing in talent like they play in the AL East with the Red Sox and Yankees, so does that hurt a Todd Gurley's new Le'Veon Bell fantasy value or not?
Also, the Todd Wright Tour Championship at Buckhorn Springs Golf and Country Club is coming up at the end of this month. Limited tee times are currently available at
JoeBucsFan.com/golf
, so the time is now to book your entry and join Todd for his 14th golf event — and his first ever major championship theme at a private course most of you simply cannot play otherwise. Contact
ToddWrightGolf@gmail.com
to ask Todd questions about this event.
.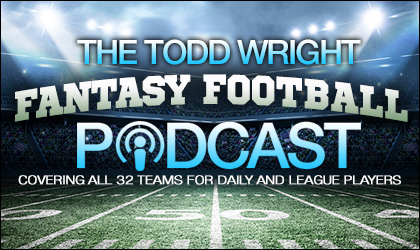 PRESENTED BY WESTCHASE GOLF CLUB