Are The Bucs Waiting On Byron Maxwell?
April 12th, 2018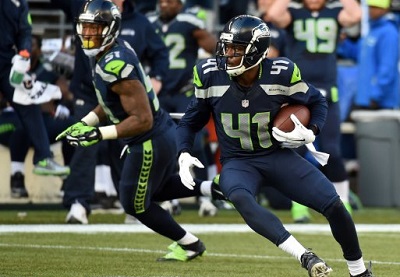 This post is one part wishful thinking, one part common sense, and one part news.
As Buccaneers fans know too well (and hopefully Buccaneers officials), the team is in a near crisis situation at cornerback.
You know the drill down; outside of Brent Grimes, who played at 80 percent last year and turns 35 soon, the Bucs don't have a player any NFL evaluator would consider a "No. 2 cornerback."
That's a very bad look in a division with three likely Hall of Fame quarterbacks.
General manager Jason Licht should feel desperate for corner help in the NFL Draft, which is just two weeks away. However, Licht has shown Bucs fans that he is a patient dealer (see the Jason Pierre-Paul trade) and isn't about to panic. You and Joe might not like Licht's plans, but Joe can assure you that Licht always has many plans and options. He is a very prepared general manager.
So that brings Joe to yesterday's news that Seattle signed ex-49ers cornerback Dontae Johnson.
Word out of Seattle is that means the team will no longer wait to re-sign former Legion of Boom cornerback Byron Maxwell, 30, who had a deal on the table after a solid season there in 2017.
Maxwell seems to fit the Jason Licht mold of a free agent, a guy who grinded his way up the NFL totem pole. Maxwell was a sixth-round pick of the Seahawks in 2011, was a reserve for a couple of seasons and then became a key starter on a Super Bowl winner.
It also says a lot that Seattle welcomed Maxwell back from the Dolphins at midseason last year and made him an instant starter in November and December.
Yes, Maxwell plays outside corner.
Yes, he's better than Ryan Smith.
Yes, Licht knows this.
Yes, signing Maxwell would give the Bucs breathing room in the draft.
Yes, Joe is holding out hope this afternoon.