Board Before Beauty
April 27th, 2018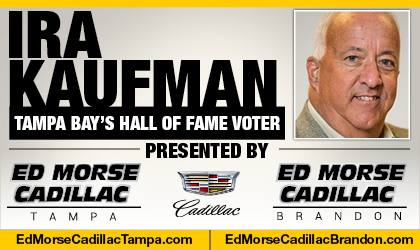 BY IRA KAUFMAN
Talent trumped need for the Bucs in the opening round, and that's the way it should be.
Based purely on the depth chart, Tampa Bay should have addressed defensive back or running back with that No. 12 pick obtained after a trade back with the Bills.
Derwin James was still sitting there, a hard-hitting safety who would have looked good patrolling the middle as the last line of defense with Justin Evans. Saquon Barkley was the only running back off the board at that point, but Jason Licht stuck to his board and his principles: you can never have too many quality defensive linemen.
In a year when Licht and Dirk Koetter are fighting for their future, the Bucs made a move for their future by selecting Vita Vea. Defensive tackle wasn't a major priority for Tampa Bay, which had already added four guys up front last month.
It took major cojones for Licht to kick off a do-or-die draft by choosing a slab of a man who may not be a major contributor as a rookie.
Deep End Of The Pool
Beau Allen, signed from the Eagles as a free agent, is considered a physical run-stuffer who is likely to start Week 1 in New Orleans. But make no mistake, Vita Vea is here to eventually replace Gerald McCoy when the time comes.
McCoy, 30, is entering his ninth season and he has taken a beating in the trenches. He has been durable and he has been effective, as his six consecutive Pro Bowl berths can attest, but McCoy will soon be wearing down.
The shelf life of an interior defensive lineman tends to be relatively short, even for the best of them. Let's look at the four defensive tackles chosen to the All-Decade team of the 2000s.
Richard Seymour — 12 years. Warren Sapp, La'Roi Glover and Kevin Williams — 13 seasons apiece.
So here comes Mr. Vea, whose frame and skills have been compared to Haloti Ngata.
That's high cotton.
Ngata, who ironically just replaced Allen on the Eagles, reeled off five consecutive Pro Bowl berths for the Ravens. And although he never registered more than 5.5 sacks in a season, he was twice named one of the league's top 20 players by NFL Network.
Vea joins a long list of new Bucs up front who will have an immediate opportunity to showcase their ferocity at New Orleans, where Drew Brees will be waiting.
Discomfort Level
In 2016, in the finale of a five-game winning streak that electrified Buc Nation, Tampa Bay defenders hounded Brees in Tampa during a 16-11 triumph.
Brees was picked off three times and the Saints were limited to 294 total yards.
The future first-ballot Hall of Famer never got comfortable in the pocket that afternoon as the Bucs improved to 8-5. The idea going forward is to come at Brees in waves, declaring to the rest of the league from the start that these aren't the same old Bucs.
"I know there are plenty of folks out there that thought we were going to go with a DB with this pick, but we have to get better on defense either way," Koetter said. "It's going to be a new look D-line and I know I can tell you as an offensive coach, the toughest teams we play are the teams that can overpower us upfront and can keep their defensive line fresh."
Now the Bucs have three second-round selections to address their gaping needs.
Vea wasn't a luxury pick, but he was the top-rated prospect left on their board and you can bet new defensive line coach Brentson Buckner gave his blessing before Licht turned that card in.
A lot of Buc fans at the big draft party Thursday night were screaming for Licht to pluck James at No. 12, but he resisted.
Instead, he put the finishing touch on a startling defensive line overhaul that has been heard way down yonder in New Orleans.