The Real Culture Change
April 6th, 2018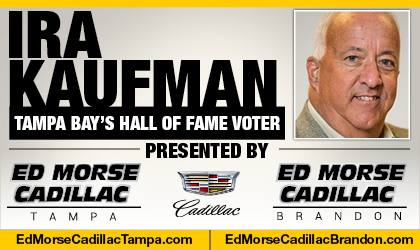 BY IRA KAUFMAN
I keep hearing that offense sells tickets and defense wins championships.
Fine.
Let's sell some tickets.
When the Bucs started playing this game at The Old Sombrero in the fall of 1976, Gerald Ford was sitting in the Oval Office. The No. 1 song in America was "Shake Your Booty" by KC and the Sunshine Band. "The Omen" was scaring the heck out of movie patrons and the Yankees were well on their way to their first AL pennant in 12 years.
In all those decades since John McKay led the expansion Bucs onto the field clad in bright orange jerseys, Tampa Bay fans have yet to cheer for a scary attack.
The Bucs have never scored 400 points in a season, Last year, eight teams reached that plateau — a quarter of the league. That group includes the Jaguars, who were thinking about dumping Blake Bortles until a stirring postseason run.
If the Bucs can land a productive running back in the draft, this offense should be dangerous. If the Bucs can land Quenton Nelson and an impact back, this offense should be killer.
Why not?
What Really Counts
Dirk Koetter has a long-standing reputation as an outstanding play-caller. He added to that rep in 2015, when he coordinated an offense that set a franchise record with 6,014 yards behind a rookie quarterback who took every snap.
It's easy to see why Koetter keeps talking about better red-zone efficiency … moving the ball between the 20s isn't the problem. Even with Jameis Winston's shoulder issues, Tampa Bay registered 352 first downs last year, ranking second in the NFL to New England.
In yards per snap, (5.6), the Bucs ranked No. 8 in the league. But in the only offensive category that really counts, Tampa Bay's scoring average (20.9) ranked 18th.
The Bucs scored only one more point than the Titans, who suffered through a lousy year by Marcus Mariota. The Bucs scored three fewer points than the Texans, who posted a minus-12 turnover differential and had Tom Savage and T.J. Yates under center for 10 of their 16 games.
That's unacceptable.
24 Or Bust
With the emergence of Chris Godwin, the Bucs arguably have the deepest corps of targets in the entire league. The addition of Ryan Jensen gives Tampa Bay a physical anchor up front and Winston enters his fourth season brimming with confidence.
When drives stall, Chandler Catanzaro is supposed to end this depressing merry-go-round at kicker.
Yet something always seems to go wrong.
Jon Gruden was supposed to kick-start a slumbering Buc offense, but when I ran the numbers after the 2007 season, I found that the Bucs had scored fewer points in the first six years under Gruden than they had during Tony Dungy's six-year tenure.
This offense has simply run out of excuses.
If Winston stays healthy and the Bucs average only 21 points once again, that's a red flag worthy of a lengthy review. That would spell trouble for Koetter and big trouble for a quarterback hoping for a huge contract extension.
Tampa is known as a defensive town when it comes to its NFL team, but would it be a sin for this franchise to light up a few scoreboards? A vibrant attack would take some pressure off a defense that is still crying out for help in the secondary.
In case you haven't noticed, each of the top six scoring teams in the league made the playoffs, compared to only four of the six stingiest defenses.
That might be an anomaly, or it might be the wave of the future in a league that cherishes points by the bushel.
It's time for the Bucs to join the party. It's time for the big score.
Ira Kaufman is the most revered sports personality and writer in town. He has hung his hat at JoeBucsFan.com world headquarters since July 2016. Tampa Bay's only Pro Football Hall of Fame voter, Ira busts out columns here every Monday, Wednesday and Friday, and his award winning podcasts fire Tuesdays and Thursdays. You can also hear Ira on SiriusXM Mad Dog Radio Wednesdays during football season, and see him now on Mondays at 10:30 p.m. on Spectrum Sports 360 (aka BayNews 9). Ira also is part of the FOX-13 Tailgate Sunday and enjoys beet salads, Riesling, Chiefs victories and needling Joe.