Another National Analyst Jumps On Buccaneers Bandwagon
April 9th, 2018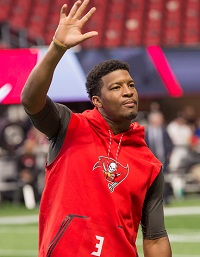 So much for low expectations in the NFL's toughest division after a kick-in-the-groin season.
The Bucs hype train has left the station!
Damn, Tampa Bay hasn't even drafted yet.
Scroll down the home page here and you'll see what Maurice Jones-Drew had to say propping up the Bucs on NFL Network. But he is not alone. Popular NFL Network analyst and former 11-year NFL receiver Nate Burleson went on a rant recently naming America's Quarterback, Jameis Winston, as his certain "bounce back" player of 2018.
Burleson went on and on, highlighting how Jameis "caught a rhythm" late last season and there's no reason to doubt that it will continue.
DeSean Jackson didn't have the 2017 he wanted from a "rhythm/chemistry standpoint," Burleson noted, but he expects a second offseason of work with Jameis to correct that. Add beastly center Ryan Jensen to solidify the offensive line and you have a powerful cocktail, per Burleson.
Advice to Jameis? Don't do to much. Take what's there.
Hey, assuming Jameis doesn't get suspended and learned a lot from last season, there's no reason Jameis can't fulfill Burleson's prophecy. Is it too early to be overflowing with optimism?