Not Cleared For Duty
March 27th, 2018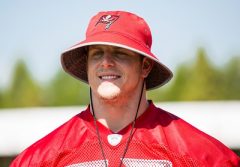 It's fair to say whatever foot/ankle/lower leg injury befell big-money right guard J.R. Sweezy, it's fair to say it's serious.
Last month, at the NFL Scouting Combine, general manager Jason Licht said Sweezy still wasn't cleared for football activities. Sweezy was injured in December.
Today at the NFL Owners Meetings in Orlando, Dirk Koetter said Sweezy continues to rehab and has not been cleared by team staff.
There was zero indication or hint from the head coach that the Bucs are counting on a Sweezy return.
Ali Marpet is moving to left guard. Done, Koetter said this morning. So it appears Evan Smith and Caleb Benenoch are the current candidates at right guard. It is considered a good draft class at the position.
Sweezy might still come back, but Joe sure would wager against it.