The Bank Breaker
March 9th, 2018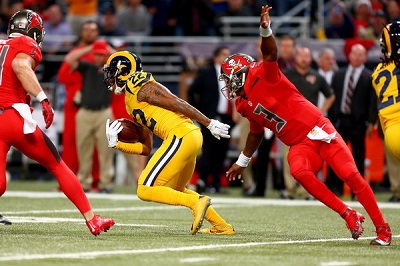 With the most salary cap room in the NFC and the worst-ranked defense in the NFC, the Bucs appear to be in a no-brainer situation entering free agency.
Buy the best player available on defense in a position of need. Period.
The Bucs didn't do that last year and it cost them dearly.
Michael David Smith over at ProFootballTalk.com made a great point about the cornerbacks market. With the Rams, coming off an 11-5 season and trading for stud corners Marcus Peters and Aqib Talib (just yesterday), there is zero chance they'll re-sign star corner Trumaine Johnson. He earned $16.7 million last year, the second consecutive year the Rams slapped the franchise tag on him. But landing Talib and Peters did Johnson a favor by pulling two guys off next week's free agency market.
Supply for good cornerbacks has been cut while demand stays the same.
Enter the Bucs.
Someone will pay just-turned-28-year-old Johnson $15 million per season with probably at least two seasons fully guaranteed.
It would be a power purchase for the Bucs and free them in the draft to further bolster the broken defensive line. Plus, unlike Brent Grimes, Johnson should be counted on for another three years of strong football, though Joe would be pleased to see the Bucs instead sign Grimes and another veteran corner, such as versatile and young Aaron Colvin from Jacksonville.
Johnson is the bank-breaker of the year at corner, and he'd make a lot of fans happy and make the Bucs more stable.
After a kick-in-the-groin season by the Bucs that left fans in a unique and deep depression, it sure would be uplifting to see Team Glazer and Jason Licht swing for the fences.