The Buccaneers And Aaron Colvin
February 10th, 2018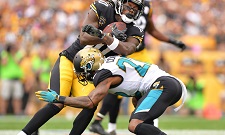 One approach in free agency (2018 dinner bell rings in 32 days) says scrutinize the winning teams with good, deep units on one side of the football.
Why? Simple. A good team can't pay everyone and shiny apples inevitably must fall off the tree.
Bucs defensive tackle Clinton McDonald was a good example of that. He was a relatively inexpensive Bucs free agent signing after then-mighty Seattle let him walk in 2014. McDonald has been solid when healthy for Tampa Bay, but he's missed 30 percent of Bucs games since putting on the uniform.
Anyway, the Bucs could use at least a McDonald-type signing in their troubled cornerbacks stable.
That could be Jaguars cornerback Aaron Colvin.
The 26-year-old nickel and outside corner may hit the free agent market because the Jaguars are paying a fortune to Pro Bowl cornerback A.J. Bouye and will have a open the vault eventually for Jalen Ramsey.
Colvin has played outside during his four years in Jacksonville but settled in last year as a full-time nickel, including an interception in the playoffs, his first career pick.
Per Ryan O'Halloran of the Florida Times Union, Colvin is someone the Jags would want back but might end up waving good-bye.
Why re-sign him: Teams play with a third cornerback on nearly 70 percent of the snaps and Colvin has developed into a dependable nickel cornerback, able to cover in man and zone. He is also physical in the run game and can blitz. Plus, there is not a no-doubt in-house option to replace Colvin.

Why let him walk: The Jaguars are already paying A.J. Bouye (2018 cap number of $15.5 million) and need to have a big check ready for Jalen Ramsey after the 2018 season. Simply put, Colvin may be the odd man out if another team offers him starter-type money to play the slot.

Prediction: We'll be bold and say the Jaguars find a way to keep Colvin.
The Bucs sure could use a young guy like Colvin in the mix. He could be good value if the Bucs determine that he's got his head on straight. Colvin did have a four-game performance enhancing drug suspension early in his career.
In case you haven't picked up on it yet, Joe rolls around in bed at night sweating at the thought of Brent Grimes retiring and the Bucs bringing back Ryan Smith, Javien Elliott and Vernon Hargreaves for critical roles.