Report: Ryan Jensen Arrives Tonight
March 14th, 2018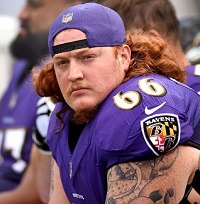 The Ravens shuffled Ryan Jensen from guard to center last year to replace Pro Bowl center and former Buccaneer Jeremy Zuttah.
It worked. And now he flies in to Tampa tonight on what is billed as Stop 1 on his free agent tour, per Jenna Laine of ESPN.com.
Jensen is supposed to visit the Colts after that. But if general manager Jason Licht is bringing the guy in, then there's no reason to let him leave without a contract unless a red flag pops up in the interview process. The 26-year-old with the flowing red locks can play. He battled his way up from Division II football in Colorado to being a Ravens sixth-round pick in 2013.
Licht said two weeks ago that right guard J.R. Sweezy is still hurt. And we all know he came off a disappointing season in 2017, after not practicing or playing at all in 2016, following mysterious back surgery.
It's time to move on from Sweezy. (Ask yourself what Sweezy's trade value is. And then answer honestly.)
Jensen seems right in the Licht mold. The GM was an offensive lineman himself at Nebraska and he has a passion for finding small school players (See the bold trade up for Division III Ali Marpet).
The arrival of Jensen would seem to insure that Marpet gets moved back to right guard, where he know doubt will be happier since he was very good there and guards can earn about 20 percent more than centers. Marpet's contract is up after the 2018 season.
Again, if the Bucs like Jensen, then he has to be locked down tonight. Bring in Marpet, Donovan Smith, Demar Dotson and Jameis Winston to serve up the A-list sales pitch.
Once upon a time, Licht let another good center, a versatile lineman, a guy now with a Super Bowl ring, leave the building in March without a contract. And that backfired.
Joe sure hopes the right call is made tonight.