Report: Chucky Is Chasing Doug Martin
March 9th, 2018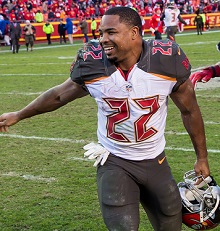 Nobody writes a soap opera like the Tampa Bay Buccaneers.
You can't make this stuff up.
(Or maybe you can, Mr. Rapoport?)
This afternoon, NFL Network reporter/insider Twittered that the ol' Super Bowl ball coach himself, Chucky, has his eyes set on the NFL's worst running back over the last two seasons. His name is Doug Martin.
Sources: #Raiders coach Jon Gruden recently arranged for a face-to-face meeting with former #Bucs RB Doug Martin and came away impressed with him as a person. Oakland expected to make a strong push for Martin in free agency.

— Ian Rapoport (@RapSheet) March 9, 2018
Please, Chucky. Please get this deal done! It'll be too much fun.
Odd that Rapoport says Chucky will make a strong push for Martin in free agency, considering Martin already is free and clear to sign with anyone.
This afternoon, Joe is very happy Chucky is not coaching the Bucs.
What next? Will Chris Baker sign a $3 million deal to play for a top defensive mind? Oh, wait, that already happened this week.