NFL Official Talks Jameis Winston Investigation
March 2nd, 2018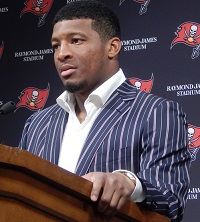 We're about 110 days into the official NFL investigation into America's Quarterback, Jameis Winston, for allegedly grabbing the crotch of a working female Uber driver without permission.
It's a critical component to the 2018 Buccaneers season. Only Bucs fans with their heads in the sand or glued to Pro Football Focus grades would think otherwise.
We learned at the NFL Scouting Combine this week that Dirk Koetter doesn't have "any" information about the investigation. And general manager Jason Licht told Joe that he, the GM of the team, doesn't know if Jameis has been interviewed league investigators. Two weeks ago, Tampa Bay Times Bucs beat writer Rick Stroud said Jameis was not interviewed.
Considering the NFL in about 21 days this year wrapped up an investigation into an alleged domestic violence issue concerning Panthers GM Marty Hurney, this whole Jameis investigation appears to be about as energetic and focused as Chris "Swaggy" Baker at a spring practice at One Buc Palace.
Frankly, it stinks. And it especially stinks after star witness to Jamies' alleged innocence, Ronald Darby, told Joe at the Super Bowl that the NFL had yet to interview him on the matter.
At the NFL Scouting Combine this week, JoeBucsFan.com was able to reach out to an NFL official and get a comment on what is happening with the Jameis investigation. "It is ongoing. We want to wrap these up as quickly as we can, but often it takes a while because of the number of people that have to be contacted and talked to," he said.
Joe promptly walked to the nearest solid wall and head-butted it repeatedly.
As a powerful media player told Joe this week, the NFL, for now and for whatever reason, doesn't want this Jameis investigation resolved quickly.