"He Earned That Money"
March 27th, 2018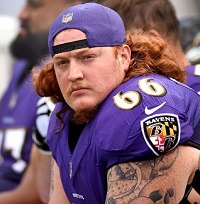 The Bucs sure are high on new center Ryan Jensen, their big bucks free agent signing from the Ravens.
And they're not the only ones.
At the swanky NFL bash in Orlando last night at the annual owners meetings, Joe had a great chat with Bucs general manager Jason Licht about the impressive film of Jensen, from his toughness to his execution. Let's just say Licht felt thoroughly great about making him the top-paid center in the game.
But that prompted Joe to go looking for members of the Ravens hierarchy in attendance. Unfortunately, Peter King of Sports Illustrated and TheMMQB.com fame, had John Harbaugh cornered for a long time.
But Joe persevered and found a Baltimore official ready to chat as Joe left the party and entered a bar at The Ritz-Carlton.
Simply stated, Joe was told Jensen turned in a whale of a season that surprised everybody associated with the Ravens. Not that Jensen was a bad player, but his level of success while moving to full-time center last season wasn't forecast. "He earned that money," Joe was told about Jensen. "If he can duplicate last season, Tampa probably will have a very different offense."
Yes, Jensen had a career year in 2017, but nothing about the guy screams that he's a one-year wonder, more of a late-bloomer, sixth-round pick who grinded his way to the top of the league.
That's the bet the Bucs have made.