"He Came To Me"
March 25th, 2018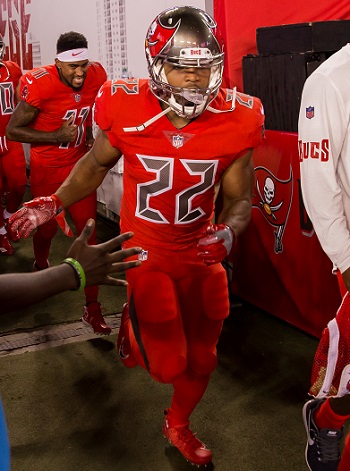 Raiders fans have been doing their share of grumbling about Jon Gruden's approach in free agency this year.
They're scratching their heads trying to understand Gruden's fascination with old players, seemingly on the decline.
Former Raiders player and assistant coach Rod Woodson is a new leader in the anti-Chucky charge in Oakland.
Woodson is upset by Oakland dumping Michael Crabtree in favor of Jordy Nelson at wide receiver, and he was adamant that Doug Martin was a bad move.
"You can't tell me you bring in Doug Martin and they're a better football team," Woodson said, via CBS Sports.
Interestingly, a report on the Raiders official website says Gruden flew to see Martin (not the other way around) before free agency opened, after he was cut by the Bucs. Martin, in a chat with official site, also emphasized "he came to me" with a plan to show the NFL that Martin has plenty left to show the league and to prove.
It's one interesting marriage, and of course that means Joe will be paying attention.
Chucky even signed his former Bucs quarterback lab prodigy Josh Johnson.
Few would remember that back in 2008, Chucky, during a chat about Johnson with Oakland media, hinted that he might get fired by the Bucs.
"He's our secret weapon. He's in our laboratory and I don't know if they're going to give me enough time to develop him, but I've got a lot of confidence in what this guy can be," Chucky said of Johnson. "He is a very good athlete. A great kid. Football-smart, man. Players love him. I just think a year from now, he goes to training camp, he'll show you and a lot of people that he belongs in the league and he can become an NFL quarterback."
With every passing week, Joe is more and more relieved that Chucky won't coach the Bucs again.