A Fresh Look At Josh Freeman
March 21st, 2018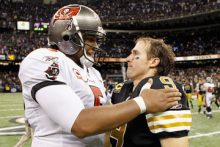 Yes, Joe has been closely monitoring the movements of the Buccaneers' former franchise quarterback.
Why?
It's interesting — and certainly more fascinating than the horrendous shooting on display in the NCAA men's basketball tournament.
So Freeman, for those unaware, is a member of the Montreal Alouettes in the CFL. He met with them last year and inked a deal a couple of months ago. They're very serious about Freeman up there, and Freeman is taking things very seriously, as well.
First, below is a recent Twitter photo of lean Freeman a few weeks ago with two of his Montreal teammates.
That's what you call being totally immersed in Montreal culture! Josh Freeman caught a Habs game with teammates Luc B.-J. and @7Bowman as he was visiting Montreal this week. #AlsMTL #GoHabsGo @JF5x pic.twitter.com/kHUBoevSty

— #AlsMTL (@MTLAlouettes) February 27, 2018
As for Freeman on the football field, CFL.ca writer Jeff Krever typed up a really interesting look at NFL quarterbacks transitioning to the CFL, where the rules are quite different. Football junkies will love it, and Joe recommends it. Here's a snippet:
The other one comes from the quarterback, and it has to do with work ethic and especially humility. I say humility because sometimes that's the biggest challenge for players, especially quarterbacks, coming from the NFL to the CFL. These players have played one version of football their entire lives, and suddenly they're playing what's essentially an entirely different game.

What the quarterback sees on the field in Canada as opposed to the States, whether it's the unlimited motion or the extra defensive back, could not be more black and white. There's no fast-tracking the hours of film needed to get up to speed.

Will a seven-year NFL veteran and a former first round draft pick like Freeman eagerly take the advice of a Matt Shiltz, Antonio Pipkin or Drew Willy? Players that are less celebrated but have seen more and have a better understanding, at this point, of the three-down game?
Joe wishes 30-year-old Freeman well, and Joe is long over Freeman freaking out and getting himself launched from Tampa when Greg Schiano benched him after three games of the 2013 season for rookie Mike Glennon.
Freeman's story, ironically, has become about his deep love for football. He's not in Canada for the relatively small paycheck.