"This Current Regime Is Going To Get Cleaned Out If They Don't Make A Splash Move"
March 13th, 2018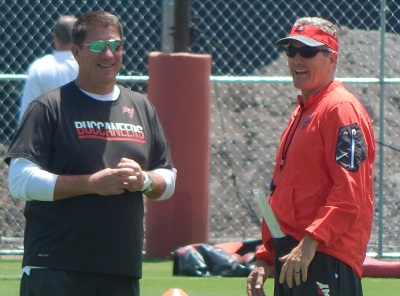 You've heard Tom Krasniqi on the Buccaneers Radio Network, and nowadays he bellows to the masses on Tampa Bay sports radio every morning.
Today, he was throwing fire at the Bucs' heirarchy.
Literally for hours on WDAE-AM 620 (Joe had a very long early-morning trip), Krasniqi was hammering general manager Jason Licht to make a big play this week and to recognize that you only get impact players in free agency with bold moves and top salaries.
Ndamukong Suh is who Krasniqi wants to join Gerald McCoy so the Bucs can annihilate the pocket on NFL quarterbacks.
"This current regime is going to get cleaned out if they don't make a splash move," Krasniqi said.
Now there's a concept right there. Can the Bucs climb out of the NFC South basement and get to 9-7 or 10-6 with just a couple of mid-range free agent additions and a good draft class? Of course they can. So Krasniqi and others on his bandwagon need to take a deep freakin' breath.
But doing that without belting a serious home run in free agency is going to be very difficult, especially after missing out on earlier trades.
Joe hopes Licht hearkens back to his gambling roots. After all, NFL football at its core is supposed to be about entertainment. What's fun about yawning through free agency and hoping rookie miracles?
Yeah, Joe realizes the Falcons exploded with an A+ draft class in 2016, and the Saints did that last year. But that's also part of why the Bucs need as many impact players as they can find.