Clock Ticking On Robert Ayers
March 16th, 2018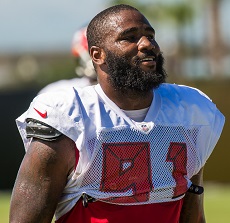 Money talks, and there's a good chance it's a current subject of discussion among general manager Jason Licht and veteran Bucs defensive end Robert Ayers.
Bottom line is that Ayers is due a $1 million roster bonus if he's with the Buccaneers on Saturday, per reliable Spotrac.com. His full 2018 contract is for an additional $5 million, but that's not guaranteed unless he's on the roster after training camp.
So the Bucs have a decision to make on Ayers, who turns 33 in September and hasn't played more than 12 games in a season since 2013. Does Licht, who clearly is shunning significant expenditures this offseason, want to pay that kind of coin for a declining and banged up DE?
You may have noticed a lot of teams around the league cut players this week because they wouldn't agree to pay cuts.
Would Ayers?
If the Bucs plan to draft two defensive ends, then one could assume those guys would make the roster along with Will Gholston and Noah Spence, if he stays healthy. Plus the Bucs just signed DE Mitch Unrein (hooray!) and Will Clarke, who led Bucs defensive ends with 2.5 sacks last season.
Where does that leave Ayers?
Joe suspects the Bucs keep Ayers and pay him the $1 million this week and then go from there. Ayers has value, but Joe's not sure it's anywhere close to $6 million on this year's team.