Bucs Have A New Password
March 23rd, 2018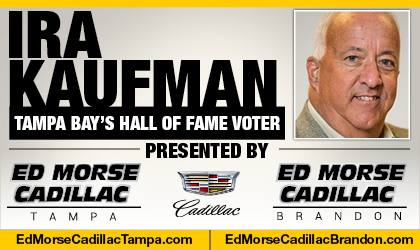 BY IRA KAUFMAN
This changes everything.
With one bold phone call to Giants GM Dave Gettleman, Jason Licht set in motion a move that stoked Buc Nation and generated a rather large smile on the mug of Gerald McCoy.
The acquisition of Jason Pierre-Paul gives Tampa Bay its first legitimate edge rusher since Michael Bennett was allowed to float out of town and spearhead Seattle's ascension as a dominant defensive team.
The new password in Tampa? Flexibility.
Flexibility in terms of next month's NFL draft and flexibility in terms of how to use a proven pass rusher.
During his accomplished career with the Giants, Pierre-Paul lined up at both left end and right end. That versatility could be critical in maximizing the effectiveness of Tampa Bay's four-man front. For example, if Noah Spence is healthy and playing well, new defensive line coach Brentson Buckner could move Vinny Curry inside next to McCoy on passing downs and utilize Pierre-Paul off the left edge.
In that best-case scenario, the Bucs would seem to have the firepower to hound Drew Brees, Matt Ryan and Cam Newton in ways the Stick Carriers could only fantasize about.
Granted, Pierre-Paul isn't the same dynamic force he was in 2011, when he registered 16.5 sacks and was voted a first-team All-Pro at the age of 22. But the man can still play, especially when motivated by a fresh start in the town he first made a name for himself.
Complete Repair
Let's be honest here. Curry was a solid player for the Eagles, but he didn't even start until last year. He has one season with more than four sacks.
Pierre-Paul has six.
Until this deal was finalized, there was a depressing sense that the Bucs hadn't adequately addressed their No. 1 offseason priority — significantly upgrading an anemic pass rush.
And with a major drop off from Bradley Chubb to the next highest-rated defensive line prospect, there would have been considerable pressure on Licht to consider a move up at the top of the draft.
Now, if Chubb somehow falls to the Bucs at No. 7, they should thank their lucky stars. The key is they are no longer in desperation mode.
Drafting Quenton Nelson would complete a startling trench overhaul. There would be a roar in Tampa Bay's war room, led by the Glazers.
Physical Numbers Game
Now Licht has the flexibility to select a cornerback or a safety at No. 7. or even trade back to a quarterback-needy club like the Bills. And if Saquon Barkley should somehow still be on the board, that's a no-brainer.
Yes, flexibility is a beautiful thing when it comes to the draft.
Desperation is often a franchise-killer.
The Bucs have already added four defensive linemen, and the draft could provide one or two more. The Eagles just proved you can never have too many quality guys up front, keeping them fresh when the game is in the balance.
Toughening the trenches was the offseason mantra and in that regard, Licht deserves to take a bow. The Bucs haven't been a physical team since Warren Sapp and John Lynch departed 14 years ago. They also haven't won a playoff game during that span.
Quite a coincidence.
Here's to the nasty boys, one and all. And as for you, Drew, Matt and Cam — don't forge to buckle those chinstraps when you get to RayJay.
Ira Kaufman is the most revered sports personality and writer in town. He has hung his hat at JoeBucsFan.com world headquarters since July 2016. Tampa Bay's only Pro Football Hall of Fame voter, Ira busts out columns here every Monday, Wednesday and Friday, and his award winning podcasts fire Tuesdays and Thursdays. You can also hear Ira on SiriusXM Mad Dog Radio Wednesdays during football season, and see him now on Mondays at 10:30 p.m. on Spectrum Sports 360 (aka BayNews 9). Ira also is part of the FOX-13 Tailgate Sunday and enjoys beet salads, Riesling, Chiefs victories and needling Joe.