Discount Shopping
March 15th, 2018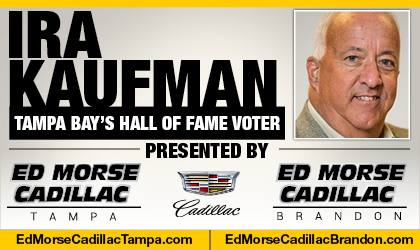 BY IRA KAUFMAN
Buc fans asked for a few home runs. I asked for some doubles.
But as free agency headed into Day 2, One Buc Place has generated only a bunt single or two. A lot of talented players have been signed by competitors while Jason Licht goes shopping with a restricted credit card.
There may be more to come, but the trio of Beau Allen, Mitch Unrein and Chandler Catanzaro isn't going to move the needle for potential season-ticket holders. Where shall we start in this low-budget soap opera?
Let's begin with a roll call — Andrew Norwell, Malcolm Butler, Trumaine Johnson, Carlos Hyde, Dion Lewis, Star Lotulelei, Jerick McKinnon, Patrick Robinson, Josh Sitton, Ndamukong Suh.
Those are serious upgrades for a 5-11 franchise trying to end a 10-year playoff drought. In each case, the Bucs passed.
The message from management is both simple and disturbing:
Bucs to NFL: We're good.
No, you're not.
The main offseason priority, as articulated by Dirk Koetter himself 10 weeks ago, has not been addressed. Beau Allen is a run-stuffer, plain and simple, and a good one. But he doesn't collapse the pocket and you won't see much of him on third down.
It's beginning to look like the Bucs will head into the draft desperate for pass-rushing help, and desperation often leads to a reach or two. Where is the backfield complement to Peyton Barber?
Where is the help at corner, still necessary even with the re-signing of Brent Grimes?
Licht's past may be hurting him here.
Leery Ownership
Buc fans know Licht's draft I.Q. has been high since becoming GM in 2014. Those accomplishments have been tarnished in free agency, where Swaggy Baker just joined a long list of flameouts.
The Glazers have been keeping score. Licht's track record doesn't inspire a lot of confidence in granting him an open checkbook in March. Ownership is leery of free agency to begin with, saying there are specific times when adding the right piece makes sense to put a solid team over the top.
Signing Brad Johnson and Simeon Rice helped transform the Bucs into Super Bowl champions, but that was 15 years ago.
Since then, the Glazers have fired four head coaches and purchased a world renowned soccer franchise.
It's silly to think Licht and Koetter didn't want to make more of a splash on Day 1 of free agency. Their jobs are on the line after last year's debacle. They won't be here if the Bucs go 5-11 again, but the Glazers aren't going anywhere — except to the bank.
While Tampa Bay owners talk often about how they consider Buc Nation the most loyal fan base in the league, this is a strange way to reward that faith. Licht is operating with one checkbook behind his back, trying to find bargains while prime merchandise moves elsewhere.
Long Shots
You talk about going into a draft weekend feeling the pressure. Licht will need another bonanza like 2015, when he hauled in four starters — led by Jameis Winston and Kwon Alexander.
Unless Bradley Chubb falls their way, the Bucs will have to find a nasty edge rusher that isn't highly publicized. That's the kind of challenge Licht embraces, but finding the next DeMarcus Lawrence is no easy task.
The presence of Beau Allen and Mitch Unrein is hardly going to lessen that sense of urgency for an organization with a lot to prove.
It's no surprise that Tampa Bay's division rivals haven't made many early headlines in free agency, though New Orleans added three significant pieces to their defense. The Saints, Panthers and Falcons combined for a 32-16 record last fall, so they have earned the right to feel good about themselves.
At this point, it's fair to wonder which group is more pissed off — Buc fans or members of the team's marketing department. If you felt all tingly watching Beau Allen at the podium Thursday, God bless you.
Guess you'll get goose bumps when the new kicker gets to the podium.
Ira Kaufman is the most revered sports personality and writer in town. He has hung his hat at JoeBucsFan.com world headquarters since July 2016. Tampa Bay's only Pro Football Hall of Fame voter, Ira busts out columns here every Monday, Wednesday and Friday, and his award winning podcasts fire Tuesdays and Thursdays. You can also hear Ira on SiriusXM Mad Dog Radio Wednesdays during football season, and see him now on Mondays and Fridays at 10:30 p.m. on Spectrum Sports 360. Ira also is part of the FOX-13 Tailgate Sunday and enjoys beet salads, Riesling, Chiefs victories and needling Joe.